It's becoming a recurring theme for coach Mike Hill and the Free State High baseball team: strong pitching, solid defense and timely hitting.
And, more importantly, another victory.
Behind a complete game from left-hander Travis Blankenship and a home run by Scott Heitshusen, the Firebirds beat Olathe East, 12-2 in six innings, on Tuesday at FSHS.
"I was really pleased with how we played today," Hill said. "Travis was tremendous, and, defensively, we were really good. We made a couple of plays that you don't see made very often at the high school level."
Blankenship's afternoon didn't start how he would have liked when he gave up a two-run homer to Olathe East's Jason Miller in the first inning to put his team in an early hole. He settled down, however, allowing only two base-runners and one hit over the final five innings.
He struck out five and allowed only three hits in his six innings to remain undefeated.
"I was a little shaky in the first inning, but I calmed down after that," Blankenship said. "It was a mistake pitch in the first inning. I left it up. After that, I just tried to work down in the zone and get my curveball and slider over for strikes."
Photo Gallery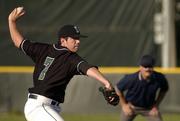 Free State High vs. Olathe East
It was not an ideal day for pitchers, thanks to a strong wind that blew out to left field. Routine fly balls were traveling to the track, making it an adventure for outfielders trying to make plays on pop-ups.
"With this wind, if you hit the ball hard and get it up, it's gone," Hill said. "Both of the home runs hit today, however, were legit shots that would have been gone any day. It was a tough day to pitch. You had to keep the ball down."
After Free State (14-2) scored two runs in the first to tie the game at 2, the Firebird offense exploded in the second inning. After Brett Lisher singled in a run, he jogged the rest of the way home on a two-run bomb by Heitshusen.
The home run was a line drive that hit about three-fourths of the way up on the hitters' backdrop in center field, easily traveling over 400 feet.
"It's a great feeling : you know it right when it leaves your bat," Heitshusen said of hitting a mammoth homer. "I just try to put it in the gaps and make good contact, but, obviously, it just took off on me."
With two league games remaining, both on the road, Free State can assure itself of at least a share of the Sunflower League title if it wins both. The Firebirds are tied with Shawnee Mission Northwest with just one loss in league play.
"We're just trying to take care of our business," Hill said. "Not just for league, but for the regional seeding. We want to host. I think we're in a pretty good position to do that if we can play well for the next week or so."
The Firebirds will play at Shawnee Mission East at 7 p.m. Friday before closing out the regular season Tuesday at Olathe North.
Copyright 2018 The Lawrence Journal-World. All rights reserved. This material may not be published, broadcast, rewritten or redistributed. We strive to uphold our values for every story published.