Kevin Dobbs called emergency crews to his house Tuesday evening.
The whole house at 829 Ohio, especially the basement, reeked of gasoline, he said.
"I guess it was pulling the fumes inside," Dobbs said.
It had been a rough 24 hours for Dobbs and his family. A basement smoke alarm went off Monday night, apparently for no reason. On Tuesday, with crews still working nonstop to clear the area of gasoline leaking from some nearby underground source, Dobbs couldn't help but be cautious.
"Anytime something's underground and you don't know what it is, you're concerned," he said.
Firefighters with special meters measured the air in Dobbs' house and said it was OK.
Officials checked 43 other houses in the neighborhood for fumes Tuesday in the wake of a Sunday fire that destroyed an apartment house at 838 La., displacing the occupants but causing no injuries.
Firefighters said Tuesday that they had completed their investigation of the fire's cause, which they determined was leaked gasoline.
But how the gasoline got into the house was not so clear.
Photo Gallery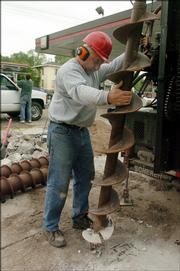 838 Louisiana house fire
Mark Bradford, chief of Lawrence-Douglas County Fire & Medical, said Tuesday that groundwater had carried "flammable vapors" into the basement of the home at 838 La. The vapors, he said, were ignited by a sump-pump spark or the pilot light on a hot-water heater or furnace.
The vapors, he said, came from the "service station at Ninth and Louisiana streets," referring to the Presto Convenience Store No. 25 at 602 W. Ninth St. The store is across the street west from the house.
"Our investigation is complete," Bradford said.
Ongoing process
But Sharon Watson, spokeswoman for the Kansas Department of Health and Environment, cautioned against assuming the store's tanks were to blame.
"We do not have exact information on where the leak came from or the source of the leak," she said.
Still, she said, crews had extracted 800 gallons of "a mixture of water and fuel" from a trench between the store and Louisiana Street.
"About 200 gallons of that was actually gasoline," Watson said.
Crews also found gasoline in a trench dug between the rear of the house and the alleyway.
Watson said KDHE would not pin the leak on the convenience store's tanks unless all other sources had been ruled out.
"That process is ongoing," she said.
KDHE records show there are at least 10 underground storage tanks within two blocks of the fire:
¢ Three at Presto Convenience Store.
¢ Two at Jayhawk Food Mart, 701 W. Ninth St.
¢ Three at Diamond Shamrock, 501 W. Ninth St.
¢ Two at Kwik Shop, 845 Miss.
Also, city directories from the mid-1970s show a gas station was once on the corner lot across Ninth Street now occupied by Images salon, 511 W. Ninth St.
"We don't know where, exactly, the fuel is coming from at this point," Watson said.
Doug Wald, vice president at Presto Convenience Store's corporate office in Andover, said the store's fuel lines and tanks were tested Tuesday.
"The lines tested out OK," Wald said. "Unfortunately, we were halfway through testing the tanks when the computer software went bad. So we called in another company."
The results would not be known until today.
"Since we stopped selling gas on Sunday, we've checked our tanks every hour and we've not lost any fuel," Wald said, noting KDHE had given the tanks a "clean bill of health" after a March inspection.
Wald said the company is fully cooperating with KDHE.
"We're committed to doing whatever is right," he said.
Records show the store's tanks were installed in 1978.
Neighborhood on alert
Bradford urged neighbors to call 911 if they happened to smell gasoline during or after the next rain.
The sewer line to the now-razed house has been capped, Bradford said. Earlier, gasoline had been detected in sewer lines near the house.
"The area is again safe," Bradford said.
Volunteers spent much of Monday afternoon and evening canvassing the neighborhood, distributing informational packets.
Within a four-block area, at least 43 of 68 houses were checked for fumes.
"No combustible vapors were detected," Bradford said. "The remaining 19 structures declined the evaluation."
Residents may call the fire department at 843-0250 to ask to have their homes checked for fumes.
Copyright 2018 The Lawrence Journal-World. All rights reserved. This material may not be published, broadcast, rewritten or redistributed. We strive to uphold our values for every story published.