Photo Gallery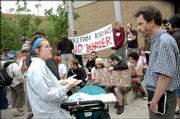 Rallies
About three-dozen pro-immigration protesters gathered downtown at noon today, part of nationwide demonstrations against proposed crackdowns on illegal immigrants.
Demonstrators gathered signatures on a petition against a U.S. House of Representatives bill that would make illegal immigration a felony, and penalize organizations that aid illegal immigrants.
The banners and signs drew an irate reaction from at least one bystander, John Tucker of Lawrence.
"There's always going to be borders," he told the demonstrators. "You can't change it."
That drew a response.
"Your ancestors were immigrants," Aaron Ross, 24, a student at Haskell Indian Nations University, said.
Demonstrators planned to deliver the petitions to the Lawrence office of U.S. Rep. Dennis Moore, D-Kan., after the rally.
An 8 p.m. pro-immigration candlelight vigil was planned today at City Hall, Sixth and Massachusetts streets.
Copyright 2018 The Lawrence Journal-World. All rights reserved. This material may not be published, broadcast, rewritten or redistributed. We strive to uphold our values for every story published.