Washington — Senators agreed Tuesday to briefly delay their debate on immigration reform, giving lawmakers time to work for greater consensus on an issue that has sparked a furor on Capitol Hill and across the country.
With negotiations continuing behind the scenes, however, it remained unclear which of several competing proposals - if any - might gain momentum.
"People are all over the place," said Sen. Mike DeWine, R-Ohio.
The Senate, which initially had planned to begin its debate Tuesday, could start its deliberations late today or Thursday. Under an agreement reached between the chamber's Republican majority and Democrats, the discussions will focus at first on border security.
As a result, some of the most controversial aspects of the immigration debate - especially proposals to create guest worker programs that would offer illegal immigrants a path to citizenship - may not be confronted until next week.
The delay was driven partly by divisions within the Republican Party - conflicts that reflect differences of opinion nationwide.
Some GOP lawmakers believe that the estimated 12 million illegal immigrants in the U.S. should be declared criminals and that border security should be the main focus of reform efforts. Others view undocumented immigrants as an important source of labor and favor plans to create temporary work visas that could provide a path to citizenship.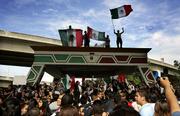 As the debate in the Senate gears up, an unexpected surge in public demonstrations has occurred in communities from California to North Carolina, protesting the tough crackdown on illegal immigration sought by some lawmakers.
Following a march Saturday in downtown Los Angeles that attracted an estimated crowd of 500,000, protests have occurred this week across the country.
The bill that will launch the Senate's debate was introduced by Senate Majority Leader Bill Frist, R-Tenn., and contains many of the proposals that triggered these protests.
One provision would make undocumented immigrants guilty of a felony for being in the U.S. without the proper papers. Currently, crossing the border illegally is a civil infraction. A similar provision is contained in a border-security bill the House passed late last year.
After considering Frist's bill, senators will move on to debate legislation approved Monday by the Senate Judiciary Committee - a measure that includes a guest worker plan and citizenship path for undocumented immigrants.
The arrangement offers Frist and other Republicans a chance to note that they brought an enforcement-only immigration bill to the Senate floor. That measure, however, is not expected to come to a vote.
Copyright 2018 The Lawrence Journal-World. All rights reserved. This material may not be published, broadcast, rewritten or redistributed. We strive to uphold our values for every story published.