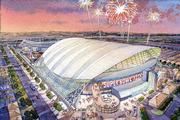 Doug Holiday doesn't live in Kansas City, doesn't work in Kansas City and certainly doesn't vote in Kansas City.
But when residents of Kansas City and elsewhere in Jackson County go to the polls April 4 in Missouri, they will be holding a portion of Holiday's livelihood in their hands.
Voters will decide whether to increase sales taxes enough to help finance $575 million in renovations and upgrade Arrowhead Stadium, home to the Kansas City Chiefs, and Kauffman Stadium, home to the Kansas City Royals. They also will consider a use tax to help finance construction of a rolling roof at the complex.
Approval of the measures locks the teams into their stadium leases for another 25 years.
Without approval of the sales tax, the professional teams would be free to shop around for new stadium arrangements - whether it might be remaining at the Truman Sports Complex, looking for a new home near Kansas Speedway or relocating to entirely new markets, such as Las Vegas for baseball or Los Angeles for football.
Photo Gallery
K.C. Stadium renderings
Holiday, like many of his business colleagues and residents in Lawrence, hopes it never comes to that. He's counting on both financing plans winning approval, which he considers essential to preserving the teams' ties to the region and also attracting a powerful lineup of special events: Super Bowl 49 in 2015, a Major League All-Star Game sometime between 2010 and 2014, and perhaps a Final Four, a major political convention or any number of tourism and sports draws in the decades ahead.
Without professional sports nearby, Holiday says, Lawrence could lose some of its benefits-by-association.
"On Chiefs Sundays, our lunches are incredible," said Holiday, co-owner of Bigg's Barbecue, 2429 Iowa. "If it's a Monday night, I've got to increase my staff by 50 percent. The Chiefs are big business. We live and die by the Chiefs."
But just how much benefit Kansas City's professional sports play in Lawrence remains an open question. Economists hired to tout the "Save our Stadiums" plan do not factor in the financial effects on the teams and their fans' spending in outlying areas such as Douglas County. And critics are focusing their efforts on wallets of residents in Jackson County, where the 3/8-cent increase in sales taxes would be charged.
Instead, Lawrence residents, business leaders and others are left to ponder the risks and rewards from what might happen from a vote in a neighboring state.
Looking to the future
Bob Moore, a spokesman for the Chiefs, said the region could use the upgraded complex to bid for a potential NCAA Final Four, or attract other major events - from political conventions to car shows.
"The direct economic impact of those events is huge," said Judy Billings, director of the Lawrence Convention & Visitors Bureau, who figures a Super Bowl certainly would fill Lawrence hotel rooms and boost consumer spending from out-of-towners.
But Billings and others see an even bigger effect in benefits that can't be measured as easily. Lawrence's proximity to Kansas City offers a connection to the metro area's major-league atmosphere, history and overall sense that the region can compete at the highest levels.
"We wouldn't miss them, economically, if they went away," Billings said. "But it's the perception of the whole area that would suffer."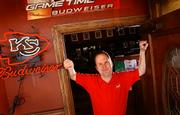 Jim Marchiony, an associate athletics director at Kansas University, said the Chiefs and Royals help attract students, faculty and staff to Mount Oread, knowing that such professional attractions and other amenities are less than an hour away.
Last season KU moved its home football game against Oklahoma to Arrowhead, generating a $1.23 million profit for Kansas Athletics Inc. and generating notoriety among potential recruits and others connected with the program.
"When you've got an NFL franchise that plays 40 minutes away from your campus, that's certainly a plus," Marchiony said. "That aura, that reputation, certainly helps us because it's another drawing card for the city of Lawrence and the University of Kansas."
On the ballot
Voters in Jackson County, Missouri, will consider two questions at the polls April 4: ¢ Question One: Shall the County of Jackson impose a countywide sales tax at the rate of three-eighths of 1 percent (3/8 percent) for a period of 25 years from the date on which such tax is first imposed for the purpose of improving, renovating and modernizing the Harry S. Truman Sports Complex to retain the Kansas City Chiefs Football Club at Arrowhead Stadium and the Kansas City Royals Baseball Team at Kauffman Stadium with leases for a term expiring Jan. 31, 2031? ¢ Question Two: Shall Jackson County impose a local use tax for the purpose of constructing, maintaining and operating a rolling roof over Arrowhead and Kauffman stadiums at the Harry S. Truman Sports Complex, with any revenue from the tax which is not needed for those purposes to be used for retirement of the obligations issued to finance improvements to the Harry S. Truman Sports Complex, at the same rate as the total local sales tax rate, currently three-quarters of one percent, provided that if the local sales tax rate is reduced or raised by voter approval, the local use tax rate shall also be reduced or raised by the same action, such tax to be imposed only if a 3/8 of 1 percent sales tax for improving, renovating and modernizing the Harry S. Truman Sports Complex, as described in Question One on this ballot, is approved by the voters? A use tax return shall not be required to be filed by persons whose purchases from out-of-state vendors do not in total exceed $2,000 in any calendar year.
Miles Schnaer, owner of Crown Toyota Chevrolet Scion in Lawrence, is plenty familiar with the Chiefs and Royals, both as a fan and as a sponsor. He's had Chiefs players and luminaries make appearances at his dealerships, including Dante Hall, Kendall Gammon and Bill Grigsby; former second-baseman Frank White and longtime broadcaster Denny Matthews have been out to sign books and mingle with fans and customers.
He said the proposals likely would pass April 4, even though the teams themselves should be covering more of the bill. But if the measures don't win approval, he foresees an even more involved wrestling match that could lead to a push for a new Royals stadium in downtown Kansas City, Mo., and a new Chiefs stadium in Kansas, either by the Kansas Speedway or somewhere along Kansas Highway 10.
Push for proximity?
"If it's closer, it would be a better thing for Lawrence," he said. "People who come in from out of town, we'd be able to promote Lawrence a little bit more."
But no matter what happens, Schnaer said, Lawrence residents won't face much direct economic impact. Adding 3 cents to the cost of every $8 purchase in Jackson County likely won't drive car buyers all the way to Lawrence, and Lawrence residents likely could afford the extra surcharges - 50 cents per ticket for the Royals, $1 for the Chiefs - that the stadium projects would trigger.
"We're kind of separate from Kansas City, and that's good," Schnaer said. "We have the community feel, and we get the benefits from all the people from Kansas City who come here and do business."
The Chiefs sell about 70,000 season tickets, through 20,890 accounts representing individuals, businesses or other organizations. Of those accounts, 263 - or just under 1.3 percent - are in Douglas County.
There are 232 accounts in Lawrence and nearby Lecompton, or 1.1 percent of the total.
Fond memories
Jaime Smith, a Lawrence resident who has season tickets for both the Chiefs and Royals, wants the teams to stay.
Smith and his friends attend every Chiefs home game, buying their food and drinks in Lawrence to feed tailgating activities that often start as early as 9 a.m. And he reserves Royals tickets largely for business purposes. As a vice president for Community National Bank in Tonganoxie, he often treats clients, customers and other business associates to a game, allowing the trip to be written off as a business expense.
Smith has been around for big Chiefs wins, and still holds onto memories from the Game 5 he attended with his father and brothers during the 1985 American League Championship Series, a stop along the way to the team's lone World Series title.
"I was only 8 years old," Smith said. "I doubt I'll ever see that again with the Royals in my lifetime, but I think it's cool I was a part of that. I got to see that team. All I have now is a pennant and a ticket stub, but for some people those memories mean a lot."
As the vote approaches next week, Holiday, the co-owner of Bigg's, is hoping that Jackson County residents will consider the big picture when deciding whether to approve the tax increases.
He wouldn't mind seeing the stadiums being improved, if it means more business, recognition and spin-off benefits in Lawrence - and, most of all, preserving the presence of the Royals and Chiefs in the area.
"They are a precious commodity that makes us a major-league town," Holiday said. "It's not worth risking. It's worth investing in. The money you put in is definitely well spent."
Copyright 2018 The Lawrence Journal-World. All rights reserved. This material may not be published, broadcast, rewritten or redistributed. We strive to uphold our values for every story published.