Last week, Christian Faulkner, 6, spent four days at Children's Mercy Hospital in Kansas City, Mo.
"It's his chemotherapy," said his mother, Amanda Faulkner. "It has to be monitored pretty close. It's not something we can do at home."
Four months ago, doctors found a cancerous tumor on top of Christian's lungs. He's been in and out of the hospital ever since.
"He's doing good," Faulkner said. "The tumor is completely gone, but we go in for chemo every other week now."
Shortly before Christmas, friends and strangers donated more than $8,000 to an account set up for the Faulkners. A Kansas City charity donated a 1997 Ford Windstar minivan.
They still have the minivan, but most of the fund has been tapped for bills.
"It's low, but we're making do," said Faulkner, who's a day care worker; her husband, Jay, is a security guard.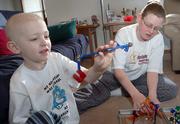 The bulk of Christian's medical bills are covered by the family's participation in HealthWave, the state's health insurance program for low-income families.
"It's been a blessing," Faulkner said.
Before Christian's cancer was detected, he weighed 46 pounds. By Jan. 1 he was down to 38 pounds.
"He's back up to 46 pounds," Faulkner said Thursday.
Cancer, she said, has changed her son.
"He's more loving now. He wants to cuddle more," she said. "And he knows he's different."
When he's outside or around other people, Christian wears a surgical mask to reduce his exposure to germs.
"I had him with me at the grocery store not too long ago, and he got a couple strange looks because of the mask," Faulkner said. "So he's not comfortable around people. But when we get to the hospital, he's real relaxed. He's your typical, active 6-year-old boy."
The family hosted a not-so-typical visitor last month when Christian's all-time favorite basketball player, Kansas University's Christian Moody, dropped by.
"He was great," Faulkner said. "Christian (Faulkner) was shy at first, but he (Moody) was real patient and waited for him to come around. He said that after Christian had his feeding tube taken out, he could come and have a pizza party with him. He gave me a phone number to call."
The feeding tube is now out.
"I called him, but everything - the playoffs - was heating up and he didn't have any time, so I said I just really wanted to thank him for what he did. He really gave Christian a boost. It was more than we could do as parents.
"He was real humble about it and said, 'But I didn't do anything,' and I said, 'Oh, but you did. You just don't know it.'"
Faulkner said her son's chemotherapy will keep him from rejoining his kindergarten class at Sunflower School.
"We're going to have to hold him back a year," Faulkner said.
Christian's classmates threw a surprise birthday party for him last week.
"We had a party for him, too," Faulkner said. "But it was just family because we were getting him ready to go to the hospital."
But Christian did get to go to his friend John Ely's birthday party.
"John's birthday is March 16, but we were having the party on March 11, which is Christian's birthday," said John's mother, Karen Ely. "Luckily he got to come. He's a really sweet kid."
Ely said she's been impressed with Faulkner's response to Christian's illness.
"She's so busy - just keeping up with Christian's appointments is a full-time job," Ely said. "She's stayed really positive and she's been gracious in accepting help from others. She's been super."
Copyright 2018 The Lawrence Journal-World. All rights reserved. This material may not be published, broadcast, rewritten or redistributed. We strive to uphold our values for every story published.