The cancerous tumor that had draped itself across the top of 5-year-old Christian Faulkner's lungs has disappeared.
"The tumor responded to the treatments," said Christian's mother, Amanda Faulkner. "It's gone."
Christian, who spent the past 14 days - including Christmas - at Children's Mercy Hospital in Kansas City, Mo., returned home Friday.
"I have to give him a shot of blood-thinner medicine twice a day because he had a clot in his right leg," Faulkner said. "And we have to keep using the feeding tube they put in because he's lost so much weight. He weighs between 37 and 38 pounds. They want him to gain at least seven; 10 would be better.
"We still have two years of treatments," she said. "But other than that, he's OK."
Faulkner, 26, said she and her husband, Jay, - he's a security guard, she's a day care worker - are reeling from the public's response to their struggle to stay on top of their bills while remaining at Christian's bedside.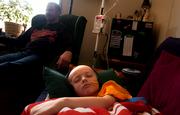 "We want to say thank you, but we're speechless," she said. "And even if we knew what to say, I don't think words would be enough. We're just amazed."
After a Dec. 21 story on the Faulkners' plight appeared in the Journal-World, donations to an account set up in their name topped $8,000.
A Kansas City television station helped arrange the donation of a 1997 Ford Windstar minivan through Cars 4 Christmas, a Kansas City charity.
"The car I've been driving belongs to my parents," Faulkner said, "so my mother is going to get her car back."
Faulkner said she and her husband planned to use the $8,000 to buy tags and insurance for the minivan.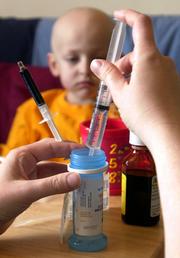 "We're going buy a computer, too, a laptop, so I can keep all of Christian's records in one location and have it with me all the time," Faulkner said.
"The rest of the money is just going to sit there until we need it for bills," she said.
Faulkner also will use the computer to post updates on Christian's condition on www.caringbridge.org, a free Web site provided through Children's Mercy Hospital.
"Christian got some Christmas presents, too, but we don't know who they're from because they just showed up and the tags said 'From Santa' or 'From St. Nick' or 'From Santa's little elves,'" Faulkner said.
Debi Moore lives across the street from the Faulkners.
"They are going to have a lot of expenses caring for Christian on a day-to-day basis," she said. "I can assure you the money won't be spent frivolously. They are not that kind of people."
The bulk of Christian's medical bills are covered by the family's participation in HealthWave, the state's health insurance program for low-income families.
"We're not (sure) what all's covered and what's not," Faulkner said. "We're playing that by ear."
It's unclear when Christian will rejoin his kindergarten classmates at Sunflower School.
"We have to get his blood count up, and he'll have to regain his strength and energy," Faulkner said. "He's lost so much weight and muscle mass; it's difficult for him to walk. It'll be awhile."
Copyright 2018 The Lawrence Journal-World. All rights reserved. This material may not be published, broadcast, rewritten or redistributed. We strive to uphold our values for every story published.