Imagine a new, two-day festival for Lawrence that would be all about books, reading and writers.
"Ultimately, it's going to be such a big event that we'll need both days" of a weekend, said Kassie Edwards, a member of the Altrusa Club of Lawrence.
Edwards and other club members are working to launch the annual festival with the goal of showcasing local authors and sparking greater enthusiasm for reading.
If their plans become reality, the first River City Reading Festival will be on a weekend in October 2007.
The festival would include book signings, readings by authors, storytelling acts, an Altrusa Community Literacy Award, book illustrators, book sales, workshops, children's crafts and food vendors.
With those activities, the organizers hope to attract people of all ages.
Edwards found a similar festival in Florida. She and other club members thought one would thrive in Lawrence because of the presence of Kansas University and Haskell Indian Nations University, the Lawrence school district and several bookstores in the area.
"There are a lot of readers in Lawrence," she said.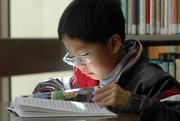 The festival plan is in its early stages now and the club members are trying to develop partnerships with other area organizations. The Lawrence Public Library, the Lawrence Convention and Visitors Bureau and Lawrence school district already have signed on, Edwards said.
Altrusa Club promotes literacy through several projects, including Born to Read, but an annual festival will require community support and 18 months of planning, organizers said.
Altrusa member and former Douglas County Dist. Atty. Christine Kenney said the event would focus on creating excitement about reading.
"When you use the word 'literacy,' it's vital to success in our society, but reading is fun, and reading is important," Kenney said.
Edwards said the group had not yet selected a festival site. Many of the decisions, including more concrete activity plans, will be made in coming months.
The festival's design committee met Thursday evening at Lawrence Memorial Hospital and discussed its timeline to prepare for the event. Eventually, members of Altrusa and the partnership organizations will form a steering committee, Edwards said.
"We're trying to create an opportunity for the community to enjoy themselves and perhaps also learn something in the process," she said.
Reading festival
The Altrusa Club of Lawrence and other community organizations are planning for the first River City Reading Festival in October of 2007. It will include book signings and readings by authors, story-telling acts, an Altrusa Community Literacy Award, book illustrators, book sales, workshops, children's crafts and food vendors. For more information about the festival, call Kassie Edwards at 550-3852.
Copyright 2018 The Lawrence Journal-World. All rights reserved. This material may not be published, broadcast, rewritten or redistributed. We strive to uphold our values for every story published.