A second woman in Douglas County has come forward to allege that the same Lawrence man knowingly exposed her to HIV.
Dist. Atty. Charles Branson's office on Thursday formally charged the 29-year-old man, Robert W. Richardson, with one count of knowingly exposing a person to a deadly virus. The alleged victim in the case, a 40-year-old woman, told police that she was exposed to HIV from having sexual contact with Richardson between Jan. 17 and Jan. 31 at his home in central Lawrence.
She filed a police report Feb. 28.
It's the second similar case filed against Richardson in Douglas County in recent weeks. Earlier this month prosecutors charged him in a separate case involving a 20-year-old woman who told police she was exposed to HIV by having sexual contact with him the night of Jan. 2 in North Lawrence.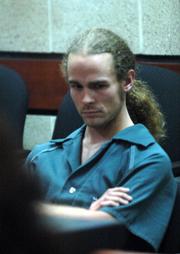 He was released on $3,500 bond in the first case. After prosecutors filed the second charge against him, he was arrested again and had his bond set at $5,000.
In a hearing Thursday in District Court, a judge scheduled his preliminary hearing for April 11.
In both cases, he is charged with "exposing another to a life-threatening communicable disease," a low-level felony under a 1999 Kansas law.
The law also prohibits people with deadly, communicable diseases from sharing hypodermic needles or donating blood or organs.
Copyright 2018 The Lawrence Journal-World. All rights reserved. This material may not be published, broadcast, rewritten or redistributed. We strive to uphold our values for every story published.