Kansas University student Logan Johnson admits he didn't have to do much job searching before getting an offer - months before graduation - for a job that will bring him more than $60,000 a year.
"I really haven't had much trouble," said Logan, a senior in mechanical engineering. "I've had a lot of people come after me."
College graduates are facing one of the rosiest job markets since the dot-com collapse in 2001, according to a report released this week by an employment consulting firm.
Strong job growth, falling unemployment and a report finding that employers plan to hire more new graduates this year are fueling optimism.
The outlook is particularly sunny for those with degrees in engineering, business, computer science, education and health care.
John Challenger, chief executive office of Challenger, Gray & Christmas, the Chicago-based consulting firm that released the report, said students should be interviewing early and often and focusing on their job and intern searches - even during spring break.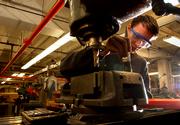 "Many who've done the best have already found those jobs and been interviewing," he said.
Bright outlook
Employers plan to hire 14.5 percent more new graduates than last year, according to a survey by the National Association of Colleges and Employers.
And there's more good news. According to the association, many graduates can also expect higher starting salary offers.
Employers are reporting their companies are growing with the economy, said Andrea Koncz, NACE employment information manager.
David Gaston, director of KU's Career Center, said KU sees more employers at career fairs, more job listings, and more on-campus and phone interviews than it has in the past few years.
"Students have a fighting chance now to have a choice rather than settling like they may have in the past," he said.
But, he said, the market isn't as hot as it was in the late 1990s when some companies offered big signing bonuses and some students were snatched up for jobs as early as sophomore year.
Carl Petz, spokesman for the Overland Park-based Black & Veatch engineering firm, which recruits KU students, said the company expected to see a 27 percent increase in its staff over the next three years. The company anticipates hiring 800 to 1,000 new employees this year.
"We have certainly seen an upturn in all of our markets," Petz said.
High paying fields
Highest starting salary offers to new college graduates. 1. Chemical engineering: $55,900. 2. Computer engineering: $54,877. 3. Electrical/electronics and communications engineering: $52,899. 4. Mechanical engineering: $50,672. 5. Computer science: $50,046. 6. Accounting: $45,723. 7. Economics/finance, including banking: $45,191. 8. Civil engineering: $44,999. 9. Business administration /management: $39,850. 10. Marketing/marketing management, including marketing research: $36,260. Source: National Association of Colleges and Employers
And a rosy outlook has companies working hard to get top candidates.
Shelly Arnett, college relations manager for Black & Veatch, said students used to get one or two offers and now it's not uncommon for them to get five or six, with signing bonuses and other perks.
"It's much more competitive out there," she said. Students "still have to work hard. They still have to put their best foot forward."
Landing the job
A rosy outlook doesn't mean all graduates will fare well, Challenger said.
"The market's not so good that there aren't going to be some people who find jobs where they're under-employed," he said.
Challenger said job seekers need to be aggressive.
Gaston, with KU's Career Center, said he viewed the career center like a gym. The more time students put into job searching, the more they get out of it.
"You can't be lazy," he said.
Johnson, who set his plans in September to work for Occidental Petroleum Corp. after graduation, is aiming for a 3.99 grade-point average, which would mean he only had one "B" in his college career.
On Wednesday, while KU's campus was quiet for spring break, he and a few others worked in the shop. He's captain of a KU student team that is building a formula-style racing car that will compete later this year.
Johnson said his grades helped him get noticed by potential employers, but his desire to do the work also made him more employable.
"If you're actually interested in what you're doing, that's the biggest thing," he said. "They can see that right off the bat."
Arnett said the company looked for candidates with strong GPAs, good communications skills and experience working with organizations or clubs.
"We want people who have not just been members of 10 organizations," she said. "We want people who have been active participants in those organizations."
Copyright 2018 The Lawrence Journal-World. All rights reserved. This material may not be published, broadcast, rewritten or redistributed. We strive to uphold our values for every story published.