Winter refused to end quietly Monday in Kansas.
Much of the state was drenched with welcome rain followed by a blanket of snow.
And while northern and western Kansas received several inches of snow, only a few inches - if any - were expected to be on the ground by this morning in Lawrence. A winter storm warning for Lawrence was canceled Monday afternoon.
"Accumulation is still possible across northeast Kansas, but we're going with 1 to 3 inches by morning," 6News meteorologist Matt Sayers said.
Lawrence street maintenance crews began preparing for the worst over the weekend. Trucks that had been used last week to haul tree debris left by the March 12 microburst instead were loaded with blades, salt and sand.
Street division employees began working shifts Sunday night to allow for 24-hour street-clearing operations. Sunday night snow predictions for Lawrence foretold nearly 10 inches.
"They're ready to go," street maintenance director Tom Orzulak said Monday morning about his crews.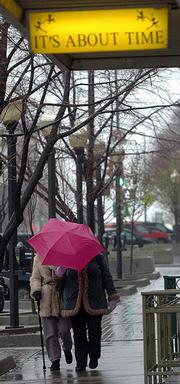 Rain started falling Sunday night in Lawrence and continued most of Monday. Combined with a brisk wind, it felt nothing like the first day of spring.
As of 10 p.m. Monday, Lawrence had received 0.94 inches of precipitation, Sayers said.
City crews were not the only ones prepared for the worst.
Lilly Phillips, 18, of Tulsa, Okla., took a seat outside the entrance to the Granada, 1020 Mass., at 3 a.m. She wanted to be the first in line when the doors opened Monday night for a performance featuring the band Jack's Mannequin. By noon she was joined by three other early arrivals who had covered themselves with a tent of blankets supported by chairs. Others sat on the sidewalk wrapped in blankets.
Cancellations
¢ The Parkinson's Support Group monthly meetings scheduled for 2 p.m. today at the First Presbyterian Church, 2415 Clinton Parkway, is canceled and won't be rescheduled. ¢ The Kaw Valley Quilters Guild meeting scheduled for 9:30 a.m. today at Plymouth Congregational Church, 925 Vt. St., is canceled.
"It's not too bad," Phillips said of the wet, cold weather.
Eastbound Interstate 70 was closed between Colby and the Colorado border and westbound from Hays to the border, said Kansas Department of Transportation spokeswoman Kim Stich. Crews hope to have both lanes open by this afternoon.
Winter Weather
Winter weather information
More than a foot of snow fell in some parts of northern and western Kansas.
In Liberal in southwest Kansas, residents awoke Monday morning to snow-covered ground. At least 6 inches of snow fell by midafternoon.
But the heavy snowfall predicted for Lawrence did not pan out.
"Dry air got pulled in this afternoon across eastern Kansas, and that reduced the moisture available," Sayers said. "It was just a little too spotty and a little too far north and east to provide us with the 3 to 6 inches (of snow)."
Copyright 2018 The Lawrence Journal-World. All rights reserved. This material may not be published, broadcast, rewritten or redistributed. We strive to uphold our values for every story published.