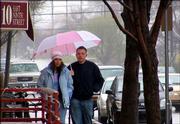 Spring is starting in Lawrence with a shovel full of winter weather - rain, sleet and then snow is expected by late tonight.
But the worst of the winter-like weather will probably stay to the north and west of the Lawrence area, says Matt Sayers, 6News meteorologist. This afternoon, the National Weather Service canceled a Winter Storm Warning for Douglas County and put the county in a Winter Weather Advisory.
"I don't think we're going to see three to six inches any more," Sayers said. "I think it will be more like one to three (inches). Some areas to our north could end up with more during the evening hours."
At 4:30 p.m., Lawrence was getting light rain, the temperature was 38 degrees, the humidity was 93 percent and winds were from the east at 21 mph, making the windchill 28 degrees.
Spring officially began at 12:26 p.m. today as rain began changing over to sleet. Sayers said a sleet and snow mixture will fall through 6 p.m., changing over to mostly snow during the evening and overnight.
Chuck Soules, Lawrence's director of public works, announced this morning that the city has begun preparations for salting and sanding in preparation for the winter storm.
"Given current weather conditions, any ice preceding the snow will make for extremely hazardous traveling conditions," Souies said in a prepared statement. He said city crews will follow a "snow plan" in clearing streets, following a priority from most-travelled streets to least-travelled streets.
He requested that drivers move their parked cars off city streets to make it easier for snowplows to get through. Plowing is not effective until accumulations get to three inches or more, he said.
Soules said residents are responsible for the snow removal in driveways and maintenance of sidewalks adjacent to their properties.
He said trash services will continue as the weather allows. The city's "T" public transportation system will run unless travel becomes hazardous, he said.
Tonight's temperature will drop to about 25 degrees by Tuesday morning, she said.
The National Weather Service is expecting three to four inches of snow tonight for Lawrence, with a 30 percent of light snow on Tuesday morning.
Tuesday's high temperature will climb to 32 degrees.
Wednesday's morning low will be 13 degrees, with Wednesday's high climbing to 36 degrees, she said. Skies will be partly cloudy.
Lawrence had about a third of an inch of rain overnight from the storm system, which is pushing south across Nebraska into most of Kansas, bringing heavy snow.
The average high temperature for today is 59 degrees. The record high is 85 degrees, set in 1934. The average low for today is 37 degrees. The record low was 10 degrees, set in 1914.
Copyright 2018 The Lawrence Journal-World. All rights reserved. This material may not be published, broadcast, rewritten or redistributed. We strive to uphold our values for every story published.