In Kansas, about half the state's school districts have all-day kindergarten. Lawrence does not.
That may soon change.
"What we're doing now - half-day kindergarten - doesn't work for most people," said Rich Minder, a Lawrence school board member and head of the Success by 6 Coalition of Douglas County.
It's inconvenient for working parents who've struggled to find all-day child care, and it's a step backward for those who've taken advantage of early education programs.
"Here we are - piecing these systems together, getting kids ready to learn - and then what do we do?" he said. "We take them out of these (all-day) programs and put them in half-day kindergarten."
Until 2001-02, the Lawrence district had all-day kindergarten at Cordley, Kennedy, New York, Riverside and East Heights schools.
Budget pressures forced the district to cut classes back to half-day in 2002-03.
Today, board members want all-day kindergarten in every elementary school.
"Everybody's for it," Minder said. "It's hard to imagine any of my colleagues arguing against it."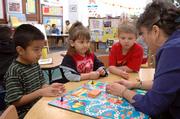 The problem is funding. Switching from half- to all-day kindergarten would cost the district almost $1 million.
No one knows whether the Legislature will funnel that kind of money into the district's budget for 2006-07.
"It's not there now, that's for sure," said board member Cindy Yulich. "But there are other ways to make it work."
Proposals being considered, Yulich said, include:
¢ Phasing in all-day kindergarten over one to five years, starting with the elementary schools with the most at-risk students - Broken Arrow, Cordley, Hillcrest, Kennedy, New York, Pinckney and Woodlawn.
¢ Offsetting the district's costs by charging kindergartners' parents a monthly fee - between $109 and $154. Low-income families would be exempt.
"Going fee-based would work," Yulich said. "I think parents would snap it up."
There's not much to decide, she said, until after the Legislature comes up a school finance plan for 2006-07.
"I can't remember the last time we had a budget number by May 1," said Supt. Randy Weseman.
Weseman has warned that if the district doesn't know its state-aid numbers by mid-May, it would be hard-pressed to start all-day kindergarten in the fall.
According to district projections, next year's enrollment is expected to include 701 kindergartners. The district would have to hire 17 additional kindergarten teachers to make an all-day program.
Not every school would be able to accommodate additional students. Some kindergartners at Hillcrest, Sunflower, Sunset Hill, and Woodlawn likely would be bused to Centennial, New York or Langston Hughes schools.
Janice Nicklaus, executive director for educational programming for the district, said it's likely parents would want the option of half-day kindergarten.
"Some, I suspect, would choose half-day because they feel their children are not ready for that much academic activity in a day or that they need their rest time in the afternoon," she said.
Sherry Emerson's twins, now first-graders at Broken Arrow, were in half-day kindergarten last year.
"I actually preferred it," said Emerson, who's PTA president at Broken Arrow. "I think it's an easier transition, going from half-day kindergarten to first grade."
Others, she said, can hardly wait.
"Oh, I think all-day kindergarten is a great idea if the facilities are there - they're not at Broken Arrow," she said. "As of right now, if we went to all-day kindergarten, it would mean using a portable (classroom). That's fine, I guess, but it would be less than ideal."
Copyright 2018 The Lawrence Journal-World. All rights reserved. This material may not be published, broadcast, rewritten or redistributed. We strive to uphold our values for every story published.