Sue Morgan doesn't rile easily.
But after nearly seven years on the Lawrence school board, Morgan is fed up with people - legislators, especially - who accuse the district of poor planning.
It's hard to plan, she said, when nine times out of 10, the cart is parked in front of the proverbial horse.
"The state asks - and the public expects - us to be efficient managers of the resources made available to us," Morgan said. "But the system we're given to work with is built on inefficiency."
There's nothing screwier, she said, than districts having to put together their budgets - a process that includes telling teachers whether they'll be rehired - before they know how much money they'll have to spend.
In Kansas, school districts are required to let their teachers know by May 1, even though it's likely they won't know how much they'll have to spend until later in the month.
"Before last year, we laid off teachers three years in a row because we didn't know what the budget was going to be," said Supt. Randy Weseman.
Some of the teachers were rehired while others left the district, creating a not-so-efficient scramble to hire replacements.
"I can't remember the last time we had a budget number by May 1," Weseman said.
Neither could Morgan. "I don't know that we've ever known by May 1," she said. "If there was, it was the exception rather than the rule."
Last year, legislators convened a special session to piece together a school finance package in response to a Kansas Supreme Court ruling.
Lawrence school officials didn't know the district's budget until early July.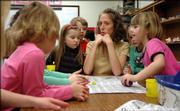 "Non-renewing teachers and then trying to hire them back before they found jobs somewhere else was so counterproductive and so disruptive, we quit doing it," Morgan said.
Future cuts in spending, she said, will be restricted to new or expanded programs.
The priorities
But it doesn't do much good for the district to set priorities until it knows how much of the budget will go for teacher and staff salaries.
"That's 86 percent of the budget," Weseman said, referring to teacher and staff salaries.
The district's 2006-07 negotiations with its teachers, he said, are at a standstill. "There's nothing to talk about because we don't know what the budget's going to be."
Sam Rabiola, president of the Lawrence teachers union, agreed.
"It's a mess," he said. "It's impossible to plan anything."
The inability to plan ahead, Weseman said, is undercutting the district's efforts to reintroduce all-day kindergarten.
"If I don't have the (budget) numbers within the next 30 days, it's going to be extremely difficult to get it going in time for next (school) year," he said. "There's a good chance it won't happen."
To start all-day kindergarten, he said, the district will have to hire and train new teachers and figure out which buildings can accommodate additional classes.
"You can't start full-day kindergarten the day before school starts. It takes months of planning," Weseman said.
The agenda
In Topeka, the system's shortfalls rarely - if ever - find their way onto the Legislature's agenda.
"Everybody sees the need, but I don't know that anybody has a plan to do anything about it," said Mark Tallman, a lobbyist for the Kansas Association of School Boards.
"The problem is that school finance drives the budget deliberations, and the budget deliberations drive the (legislative) session," Tallman said. "So school finance is always one of the last things to get done."
Tallman agreed and disagreed with Weseman's concern that all-day kindergarten may be put off a year.
"He's right; the longer the uncertainty, the harder it is to ramp up," Tallman said. "But I have to tell you I've heard from a number of superintendents who say, 'If you give us all-day kindergarten, we'll make it work.'"
But Sen. Jean Schodorf, R-Wichita and chairwoman of the Senate Education Committee, said Weseman's hesitancy was well-founded.
"We just had a good hearing on all-day kindergarten," she said. "There's a lot of interest on the committee - it makes so much sense - but I don't know if it has a majority."
Schodorf, who served 12 years on the Wichita school board, said a three-year funding plan that's been proposed in the Senate would give boards more time to plan.
"It wouldn't help this year," she said, "but it would next year and the year after."
Still, Schodorf said she had come to realize the budget process tied legislators' hands as well.
"The consensus estimating group doesn't tell us how much (revenue) they think there'll be until mid-April," she said.
Like school boards, the Legislature can't finish its budget until it knows how much there is to spend.
"I certainly understand school boards' frustration," she said.
Morgan said she recognized the Legislature's quandary.
"I know they have a tough job," she said. "But they can't have it both ways. They can't say school districts need to be more efficient when the system they expect us to work in promotes inefficiency."
Copyright 2018 The Lawrence Journal-World. All rights reserved. This material may not be published, broadcast, rewritten or redistributed. We strive to uphold our values for every story published.