Dallas — Finally, Russell Robinson encountered something on a basketball court that fills him with fear.
Not blood.
He proved that doesn't rattle him in Friday night's squeaker over Oklahoma State. The gash opened by JamesOn Curry required seven stitches to close. Robinson's line in that one: eight assists, seven steals, seven stitches.
Not big shots.
No shooter, Robinson showed his penchant for hitting the big one again in Sunday's 80-68 Big 12 Conference tournament title-game victory over Texas, when his three-pointer pushed the lead to seven points with 4:03 left.
Certainly not changing positions.
He did that in midseason, shifting to point guard, a move that freed Mario Chalmers to become the team's most consistent scoring threat.
Photo Gallery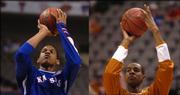 Big 12 Tourney: KU vs. UT
Not Iowa State motor mouth Curtis Stinson.
Robinson always had answers for Stinson's words, and they were in bright red bulbs on the scoreboard.
Big men don't scare Robinson, either. He takes it right at them and lays it in over them.
So what scares him?
The air above the rim.
"First time I ever got up there," Robinson said of his trip up the ladder with scissors in hand. "I was kind of scared. I'm scared of heights, but I got my little piece of the net."
Robinson and the rest of the pitbulls called Jayhawks had more steals (10) than turnovers (nine) in the title game. That's a rare feat against bad teams, a seemingly impossible one to project considering the way they started the season.
Back then, the Jayhawks were on the soft and wild side, placing seventh among seven Division I teams in November in Maui. In the early days of December, they lost in Allen Fieldhouse to Nevada and in Madison Square Garden to Saint Joseph's.
They started the Big 12 season 1-2, with consecutive losses to Kansas State and Missouri.
They enter the tournament on a run of 15 victories in 16 games. Including the league tournament, they went 16-3 against Big 12 competition and avenged each of the three losses.
"That says we learn from our mistakes," Robinson said.
It says they are good students, wise enough to trust their teacher, Bill Self, who turned a collection of talented individuals into a team with a firm hand and masterful communication skills. Self taught with the right blend of keeping the messages simple and the standards for following them high.
Nobody helped him more than the sophomore from New York.
Robinson isn't a "Hey, listen to me"-type of leader. His leadership is more like an unspoken, "Watch me. If I can do it, you can do it, too. So do it. Now!"
In helping KU avenge its 25-point humiliation in Austin, Robinson contributed 14 points, six rebounds, six assists and three steals.
On the playgrounds of New York, where Robinson cut his teeth, toughness rules, regardless of size, so it's no shock he weaved his way into a traffic jam of big Texas bodies and took in four offensive rebounds.
And he took home a piece of the net.
"This makes everybody more confident," Robinson said. "We just beat a real good team fighting for a number-one seed. We've got to feed off that and take it into the tournament."
Dangerous team.
Copyright 2018 The Lawrence Journal-World. All rights reserved. This material may not be published, broadcast, rewritten or redistributed. We strive to uphold our values for every story published.