Dallas — Bill Self stood on the American Airlines Center court amid a sea of confetti, watching his Kansas University basketball players climb the ladder and clip cords of the net after the Jayhawks' resounding 80-68 Big 12 Conference tournament championship victory over Texas on Sunday.
"Didn't we play great?" Self, KU's third-year coach, beamed after KU avenged a 25-point loss to the regular-season co-champion Longhorns.
"It's the best we've played all year," Self added after his Jayhawks (25-7) swished a season-high 12 three-pointers in 24 tries while limiting possible No.1 NBA draft pick LaMarcus Aldridge to five points and five boards in 28 minutes.
Self, whose players were denied a chance to hoist the Big 12 trophy after their title-clinching victory over Kansas State on March 4, more than made up for the league's snub Sunday, celebrating wildly as the final seconds ticked off the clock and during a 20-minute postgame celebration on the hardwood. KU's band played "We Are the Champions" in the background.
"No fault to anyone, but it certainly was nice to hold that one today. I know the guys really enjoyed that," Self said of the trophy.
KU seniors Stephen Vinson, Christian Moody and Jeff Hawkins held the trophy high at midcourt after the presentation, minutes after Hawkins received a hug from Self right after the final horn.
Photo Gallery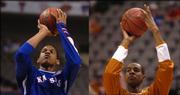 Big 12 Tourney: KU vs. UT
"'Hawk' played great. He had an answer every time," Self said of the senior guard who scored 13 points off 4-of-5 three-point shooting. "When a team like Texas plays zone, it allows him to get some shoulder squared jumpers. Fortunately for us, he made them."
KU's other accurate three-point bomber, Mario Chalmers, received his bearhug from Self after the tourney MVP ceremony.
Yes, KU's freshman guard was so honored by the league after hitting four threes in seven tries and scoring 15 points with six assists, no turnovers.
"I was kind of surprised to win it, but you can't be satisfied," said Chalmers, who did a jitterbug dance with Brandon Rush, the two dipping and weaving after the trophy presentation. "The best part about today is just being able to win and say we're the champions. This shows who the best team in the Big 12 is."
Of course, he wasn't the only KU freshman to excel.
Rush, who missed 10 of 14 shots, did score 12 points, including two free throw swishes with 5:55 left that broke a 63-all tie and started a game-breaking 7-0 run. Julian Wright, who had 12 points and seven rebounds, followed the Rush charities with a midcourt steal and resounding slam dunk that boosted the lead to 67-63.
"That was the play of the tournament," Self said of Wright's cat-quick steal and slam. Wright also put home a 360-degree slam before the final horn.
"He shows more athletic ability in games than he does practice," Self said. "He did things today that made some guys' mouths water at the next level. He was fabulous."
With KU up four, Russell Robinson poked the basketball to Wright off yet another steal. Wright fed Robinson, who swished a three to conclude the pivotal 7-0 surge, KU grabbing a 70-63 advantage, eventually building the margin to 78-66.
Wright was named to the all-tourney team with Chalmers, joining P.J. Tucker and Aldridge of Texas, plus Texas A&M;'s Acie Law.
Robinson - the "heart and soul of our team" according to Self - was snubbed after scoring 14 points with six assists, six boards and three steals. Not that it mattered. He was as happy as anybody, wearing his Big 12 title hat backward, his strand of netting jutting through the open space.
Go figure
32 KU's points off Texas' turnovers
7 Texas' points off KU's turnovers
5 Jayhawks who scored in double figures (a sixth had 9 points)
13, 5, 0 Points, assists, turnovers for KU's Jeff Hawkins
50 KU's three-point shooting percentage (12 for 24)
38.1 Texas' three-point shooting percentage (8 for 21)
4 KU's seed in the NCAA Tournament
2 Texas' seed in the NCAA Tournament
The strong play of the youngsters had Self beaming, calling the win the greatest of his 13-year career.
"Tulsa going to the Elite Eight doesn't happen every year," Self said. "But to have a team come so far and play well over an extended period of time : to have the MVP of the tournament a freshman and another freshman on the all-tournament team with others contributing as well, it's rewarding."
Rush, who proudly gave his grandmother a strand of the net - hopes his mom puts the cord in a frame - said, "we don't play like freshmen, especially Mario. He was the MVP."
Chalmers hit a pair of threes to open the second half, helping KU immediately erase its 38-37 halftime deficit and perhaps show the Jayhawks were in this game for the long haul, unlike the blowout in Austin.
"The fact we got embarrassed at their place gave us incentive today," Self said. "That game : in a weird way, we needed to lose it that way. If we lost by seven, we might say, 'We're OK.' That was an eye-opener, telling us what we needed to do to play with the heavyweights. We needed to get to a different level."
Now, the Jayhawks, who after the game learned they earned a No. 4 seed in the NCAA Tournament and will be headed to Auburn Hills, Mich., for a Friday game against Bradley, do feel they can beat anybody.
"This proves we are ready for the Big Dance," Rush said. "We are ready for any team that comes our way. We finally proved we're the best team in the conference. We proved we can win close games against the tough teams."
Self, with his troops around him and net in hand, led the chant, "1-2-3-Big 12 champs."
It's the same chant that concludes practice every day.
"I don't know if it helps," Self said, "but it reminds us every single day what we want to do."
Copyright 2018 The Lawrence Journal-World. All rights reserved. This material may not be published, broadcast, rewritten or redistributed. We strive to uphold our values for every story published.