Two athletes will represent Lawrence this summer at a lesser-known Olympic competition.
Brady Tanner, 26, and Becky Saathoff, 24, will travel to Ames, Iowa, from July 2 to July 7 to compete in the first Special Olympics USA National Games - an event that will include a torch-lighting and a "festival village" meant to recreate the traditional Olympic setting. Tanner will compete in power lifting, and Saathoff will compete in swimming.
Both Tanner and Saathoff are 2000 graduates of Lawrence High School, both are members of the Douglas County Gators Special Olympics team, and both are passionate Jayhawk basketball fans.
"Him and I are best buddies," Saathoff said. "We do a lot of stuff together."
Saathoff and Tanner are the only Douglas County residents out of the 63 Kansas Special Olympians who will attend the national games.
"It's not even necessarily the best athletes" who were chosen to attend the national games, said Tim Rehder, vice president of Special Olympics Kansas. "It could be someone a coach nominates - they're very deserving, they never miss a practice. Athletic ability and talent plays a role in it, but not as much as you might think."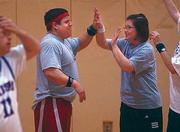 That's not to say the competition isn't taken seriously.
"I'm going to go up there and get first place," Tanner said Friday, in between sets of 400-plus pound dead lifts at the Lawrence Athletic Club.
With Tanner's power-lifting skills - he squats 635 pounds, bench presses 345 pounds, dead lifts 470 pounds and has won competitions in the past - his prediction might not be far off.
"He understands it was special that he got chosen. He just can't wait," said his mother, Janie Tanner. "That's what he trains every single day for. He says, 'I'm training for Ames, Iowa.'"
Brady Tanner was born with Rubinstein-Taybi syndrome, a rare genetic disorder that caused part of his brain to not develop, his mother said. He has been involved with Special Olympics since age 8.
Saathoff, who has a developmental disability, said her favorite thing about Special Olympics was playing basketball. Her favorite Kansas University basketball player is forward Julian Wright, who signed her jersey at a recent Special Olympics event at Allen Fieldhouse.
She works part-time at KU, doing clerical work in the special education department, and has been involved with Special Olympics for the past five years.
"It's a total social event," said her mother, Sherrie Saathoff, of Special Olympics. "I think one thing she was lacking was being able to hang out and do things that every kid wanted to do, and Special Olympics has made that happen for her."
Copyright 2018 The Lawrence Journal-World. All rights reserved. This material may not be published, broadcast, rewritten or redistributed. We strive to uphold our values for every story published.