Police and prosecutors are getting tough on Lawrence party houses and other noise ordinance violators.
Maybe too tough, a representative of the Kansas University chapter of the American Civil Liberties Union told a group of city, KU and neighborhood leaders Friday.
"I think students are worried that we are perhaps being treated unfairly," said Justin LaMort, president of the KU ACLU.
But neighbors and city leaders aren't necessarily buying it. Police Chief Ron Olin estimated that "99.9 percent" of the time, a noise ordinance violator had received a warning at some point before being issued a ticket.
"We almost always ask for voluntary compliance," Olin said. "It frees up the officer's time, the court's time and it is just generally better for the community."
But the city prosecutor confirmed there had been an increase in the number of noise ordinance or disturbing-the-peace violations. Prosecutor Jerry Little said his office had usually handled three or four violations per week, but he estimated that the number had grown to 10 to 15 per week.
And Little said the Municipal Court judge had recently handed down some eye-opening sentences. He said a two-time noise ordinance offender had been sentenced to two days in jail and a $200 fine. Some first-time offenders have been given a fine of as much as $300.
"When the judge hears from the complaining party and hears that they're kept awake all night and that it happens fairly regularly, that seems to weigh pretty heavily on him," Little said.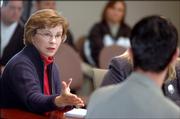 Olin said part of the reason for the increase in the number of tickets was a change in prosecuting policy that no longer required the complaining neighbor to fill out a police report to have a ticket issued.
The other reason for the increase was that the police department had started recording the locations where it had given occupants a warning. If a police officer had to return to the same house within a few days, the officer would be less likely to give a warning the second time.
Requiring a warning
Neighbors said they appreciated the changes that police and prosecutors had made.
"You know, we have civil liberties, too," said Candice Davis, a member of the Oread Neighborhood Assn.
But LaMort said he thought the city's noise ordinance was too subjective.
"Right now, everything depends on the attitude of the police officer," said LaMort, who said he had received a noise ordinance ticket without receiving a warning.
He said the ordinance should include a provision that a warning must be given before a ticket could be issued, though he didn't specify whether it must be one warning per day or in a period of time.
If city commissioners don't agree to that language, LaMort wanted a requirement of a certain decibel level set as a "do not exceed" limit. Police officers would then be required to use sound-measuring equipment to determine if a party had violated the ordinance.
Olin said he didn't think equipping officers with sound-measuring equipment would be feasible because the readings from the equipment could likely be challenged in court.
LaMort said he knew of about 10 other communities that used a similar system.
Mayor Boog Highberger told meeting participants that he wanted staff members to look into ways to make the ordinance more objective but didn't want to do anything that would hurt the enforceability of the ordinance.
Off-campus behavior
In related news, the mayor and neighbors also met with KU leaders to discuss ideas on how the university could become more involved in influencing positive off-campus behavior by its students.
Lawrence landlord Serina Hearn has been asking KU to adopt a program like other schools in which students could face disciplinary actions from the university for off-campus violations.
Hearn specifically pointed to the University of Vermont, where school administrators use disciplinary means ranging from a stern letter when students have violated particular city ordinances to expulsion for repeated violations.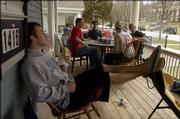 The university also has an extensive community orientation and outreach program that students go through before living off campus.
KU leaders said they would gladly review the program, but noted that they had added a section on being a good neighbor to their evaluation program.
But KU Provost David Shulenburger said the university wouldn't do anything that would violate a student's due process to law.
"We categorically can't be the police," Shulenburger said. "We can't take away rights from students for activities that happen off campus."
Highberger asked the university, student leaders and neighborhood leaders to meet and review the program at Vermont and other schools.
"I think the city has done about all it can do on its own," Highberger said. "I think the next steps need to be university-led."
Copyright 2018 The Lawrence Journal-World. All rights reserved. This material may not be published, broadcast, rewritten or redistributed. We strive to uphold our values for every story published.