Debby Cummings and Jane Rock have mastered the difficult art of getting kids to believe in themselves.
Both are now Lawrence Teachers of the Year.
"They are outstanding teachers in a school district that has many outstanding teachers," Supt. Randy Weseman said.
Cummings has taught fifth grade at Schwegler School for the last 22 years.
Rock teaches family and consumer sciences at Free State High School, 4700 Overland Drive, where she also is the faculty sponsor for student council.
The awards are based on a nomination process open to students, parents, teachers and staff. Winners are chosen by a three-member panel made up of past teachers of the year.
The awards were presented during surprise ceremonies at each school - Rock on Friday, Cummings on Thursday.
"I was very overwhelmed," Rock said. "I happen to see myself as one of many players here. So to be singled out like this was a big surprise. I had no idea it was coming. I'm humbled."
'A wonderful gift'
Before joining the Lawrence school district in 1997, Rock had taught in Olathe, Cheney and Ottawa for 17 years. She also taught for a year at West and South junior high schools.
"I really think I work with people who are truly awesome professionals," Rock said. "They make me a better teacher every day."
Gail Padden, who teaches with Rock at FSHS, had a hand in her nomination.
In her letter of recommendation, Padden wrote: "Jane has a wonderful gift for teaching. She raises the bar on student expectations and believes that all students can achieve. She is innovative in the classroom and truly enjoys the teacher-student interaction. In return, students really enjoy her classes."
Photo Gallery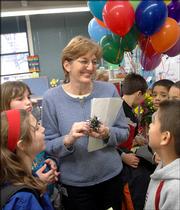 Top teachers
Spencer Lott, president of the FSHS student council, also nominated Rock. In his letter, he wrote: "Her teaching style involves sharing ideas, building off of them and then following through. We ask her for help, she then lists off several solutions but does not hold our hand and guide us through every little step. This means that student council takes more pride in our contribution to the school environment. If we appear organized and functioning, it is only because she has expected it of us, and we have taken responsibility to make it a reality."
Rock has bachelor's and master's degrees from Kansas State University.
Schwegler career
Cummings, who has a bachelor's degree from Kansas University, has spent her entire career at Schwegler School, 2201 Ousdahl Road.
"I feel fortunate to be able to work with a staff that holds themselves and our students to such high standards," Cummings said. "They make you want to do your best."
Cummings is known throughout the district for having each of her fifth-grade students - about 60 per year - write, illustrate and publish a book. Each book is bound, making it a keepsake.
"When I see my former students around town or in the grocery store, they'll tell me they still have their books," Cummings said.
As part of the project, students read their books to groups of kindergartners or first-graders. Each book features an animal character solving a problem.
Over the last 19 years, Cummings has overseen the publication of almost 1,200 books.
"I could always tell which of my students had been in Mrs. Cummings' class," said Clenece Hills, who taught at South Junior High School for many years before semi-retiring in 2000. "They loved to write. They're always ready to learn. They knew their grammar and they're good spellers."
In her nomination letter, one of Cummings' former students, Sarah Miller, wrote: "When we were doing dressed animal stories, which was a blast, she made it fun and gave us a chance to show how good of a job you could do."
Anne Woods, whose son, Wyatt, was in Cummings' class last year, wrote: "Although at times Wyatt was tired of writing, he learned a process that will help him throughout the rest of his life. No longer does he look at a book as something someone just sat down and wrote. Instead, he has an appreciation for all the things that make a book, a story and a well-written piece of literature."
Cummings' and Rock's names will be forwarded to the Kansas State Board of Education for consideration for state Teacher of the Year honors.
Copyright 2018 The Lawrence Journal-World. All rights reserved. This material may not be published, broadcast, rewritten or redistributed. We strive to uphold our values for every story published.