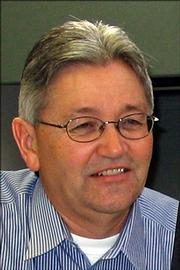 Oops.
A $26.6 million error on a single property owner's valuation notice resulted in an inflated figure for the entire county.
According to the appraiser's office, total assessed valuation for Douglas County real estate in 2006 increased 8.4 percent from 2005 instead of the previously reported 10.8 percent increase.
Appraiser Marion Johnson said the county's total 2006 valuation was $948,659,275, not $975,227,345.
Johnson said he discovered the error Thursday morning while going over a report on new construction of a partially completed house in Lawrence. Because of a data entry error, the property had been overvalued by about $26.6 million.
"It jumped right out at me," Johnson said. "It didn't take much to know we had a problem."
Johnson said the owner of the property apparently hadn't noticed the excessive valuation or at least had not called to complain. Valuation notices were mailed Feb. 28.
"I don't think the owner knew about it," he said. "We called and left a message. We renotified the taxpayer."
Johnson noted that about 6 percent of the 8.4 percent county increase is due to inflation, and about 2 percent is from new property improvements.
-->
Copyright 2018 The Lawrence Journal-World. All rights reserved. This material may not be published, broadcast, rewritten or redistributed. We strive to uphold our values for every story published.