Johnny Andris knows how well he did when he taped an appearance four months ago on the syndicated television show "Who Wants to be a Millionaire?"
Problem is, he hasn't been able to tell anybody.
"I'll say I was pleased and leave it at that," said Andris, a paid media relations intern in the Kansas University Athletic Department.
On Friday afternoon, Andris' secret will be out. That is when the show he appeared on with host Meredith Vieira in November will be aired.
Andris tried out for the show in October 2004 while he was a student at Wake Forest University. He took a written test and then was interviewed to see if he might hold up under the national television spotlight while sitting in the "hot seat" answering trivia questions posed by Vieira. The more questions contestants get right, the more money they make and the closer they get to the million dollar mark. An average of 4.2 million people watch the show daily, a show spokeswoman said.
A year later he was working for KU and driving to Boulder, Colo., for the KU-Colorado University football game when he got a call from a representative of the show. They asked him to go to New York City to be on.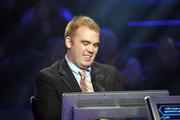 "I said 'I think I'll be there,'" the 23-year-old recalled saying.
He didn't study for the show because "I figured I'd drive myself crazy trying to learn everything." But he did play an online version of the game to stay in mental shape.
Andris, who has always liked trivia games, said he was initially nervous when the show started.
"I don't know how much of that comes through, but I definitely was nervous," Andris said. "But the host (Vieira), she definitely has a calming influence to her. I got into the swing of things and it got better."
Andris was allowed five "lifelines" to people he could call on for help in answering questions. One of them was his father, also John Andris, "the best trivia man I know," and another was Mason Logan, KU associate media relations director, and three friends.
"Who Wants to be a Millionaire" will air at 2:30 p.m. Friday on KSNT Channel 27 in Topeka and 4 p.m. on KSHB Channel 41 in Kansas City, Mo. Andris will be working in the KU athletic media relations office while most of the staff is in Dallas for the Big 12 basketball tournament. He hopes to be able to watch some of the show.
Whatever money Andris earned from the show, he can sure use it. He owes a friend $40 and his first stereo was one he fished out of somebody else's trash. It no longer works and has been tossed out again.
Andris hopes to eventually go to law school and become a sports agent. He has no regrets about being on the trivia show.
"It was definitely the most unique experience I have ever had," he said.
Copyright 2018 The Lawrence Journal-World. All rights reserved. This material may not be published, broadcast, rewritten or redistributed. We strive to uphold our values for every story published.