Michelle Leeker had to stand by as her baby son slowly lost his battle to a rare disease. She doesn't want other parents to go through that.
"If they caught it soon enough, there's a chance he would still be living," the Baldwin mother said of her son's degenerative disorder, often called Krabbe disease.
Kansas ranks among the lowest states in the nation for the number of tests or screenings it runs on infants. Currently, the state screens for four diseases: phenylketonuria, or PKU, hypothyroidism, galactosemia and sickle cell disease.
But the screenings don't include other genetic disorders.
"We believe that there are children in Kansas today that have these (genetic) diseases and no one knows it," said Norm Hess, director of program services for the Greater Kansas Chapter of the March of Dimes. "Many of them go from doctor to doctor trying to find out what's wrong. If we implement newborn screening, many families will not have to deal with that issue."
The American College of Medical Genetics has called for all babies to be tested for 28 potential disorders and hearing problems. Many states have expanded the number of diseases screened for.
But, according to the March of Dimes, which is pressing for expanded screening in Kansas, the state is tied for last place nationally with Arkansas, New Hampshire and West Virginia.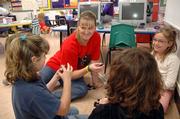 Proposed legislation dealing with genetic disorders and infant screening has Kansas families, such as Leeker's, lining up to support it. But other families are distressed by the proposal, which aims to expand screenings for newborns but also would alter state aid for those needing treatment for the genetic disorder phenylketonuria, or PKU.
Families on both sides of the issue said they planned to make their case to lawmakers.
"Maybe some of the things that are not satisfactory can be amended out" of the proposed bill, said Rep. Peggy Mast, R-Emporia, a member of the Social Services Budget committee. "There's a lot of potential for this bill to change."
Leeker said doctors didn't diagnose her son, Trevor, with Krabbe disease until it was too late to try experimental treatment. Trevor died in 2001 when he was 21 months old. She wants to help other families and babies born with disorders that could go undiagnosed.
Leeker is joined by Kris Smith, an Overland Park resident whose granddaughter, Alexis Knapton, died in 2003 of a disorder often referred to by the acronym MCADD. She was 8. The disorder wasn't diagnosed until after an autopsy report came back inconclusive and the family turned to genetic tests. Alexis lived in Missouri, a state which has expanded its screenings.
"We know firsthand what it's like to lose a child that really didn't have to die," Smith said. "No matter where I live, I'd like to see all of the states screen for the disorders."
Smith has started the Web site www.mcadangel.com to help other families.
Most states pay for the expansion of newborn screenings by charging some fee to families, said Bradford Therrell, director of the National Newborn Screening and Genetics Resource Center.
Hess estimates expanded screening in Kansas would cost $60-$80 per child. Kansas statute currently requires newborn screening to be free to families.
Sharon Watson, spokeswoman for the Kansas Department of Health and Environment, said the costs of expanded screening would depend on how many disorders the state tests for and other factors that have not been ironed out.
House Bill 2971 calls for families of those with PKU to exhaust all other means before getting state reimbursement for the expensive formula needed to supplement the diets of those suffering from PKU. That part of the bill has PKU families worried that they will end up paying thousands of dollars more per year for the formula.
"It's my hope that there can be a way for everybody to get what they want," Smith said.
Copyright 2018 The Lawrence Journal-World. All rights reserved. This material may not be published, broadcast, rewritten or redistributed. We strive to uphold our values for every story published.