No one is going to confuse Free State High girls basketball coach Bryan Duncan with the infamous Bob Knight.
The environment surrounding a Firebirds practice best can be described as loose, but not lackadaisical. There's plenty of good-natured ribbing, but the work gets done.
Still, to hear his players tell it, the Free State boss has taken an intense turn during his fourth season at the helm.
"Last year I thought he was on us, but this year I think he's cracked down on us a little bit," junior point guard Lauren Kimball said.
"It is demanding," added senior center Banaka Okwuone. "I think it picked up more this year since he realizes how much potential we have."
Now, so does the rest of the state. With Saturday's 69-65 victory over Olathe East in a Class 6A sub-state meeting at Topeka High, the Firebirds clinched just their second state berth in the nine-year history of the program, and will open tournament play tonight as the No. 6 seed against third-seeded Wichita South.
They also have justified the leap of faith Duncan, 33, took prior to the 2002-03 season when, at the ripe old age of 29, he decided the time was right to run his own program.
Never mind the fact that he'd never coached girls before.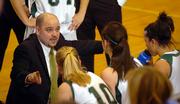 "I certainly took a lot of different things into consideration," said Duncan, who spent five years as a boys assistant coach and worked as the head sophomore coach in his final season on that side of the operation. "It was going to be a process. I knew if I was going to take the challenge I wanted to jump in full-speed ahead."
Just one problem - while Duncan didn't inherit a jalopy, he wasn't given the keys to a Porsche, either.
While former coach Craig Hershiser worked much the same magic he had during his previous stop at Overland Park Aquinas - taking Free State to its first state berth during the 2000-01 season - he never could build enough momentum to turn the Firebirds into a perennial power.
So Duncan began the tedious task of finding more horsepower. His first Free State squad produced just four victories, a number that doubled his second season.
Another eight-win season followed in 2004-05, built largely on the efforts of underclassmen. That set the stage for this winter's breakout, which saw the still-young Firebirds win their first tournament championship and, after some midseason slippage, overcome a pedestrian 7-7 start with eight straight victories.
The formula for success has been simple - up-tempo, aggressive, full-court basketball that some equate to a carryover from Duncan's days as a boys coach.
He admits that, with this year's squad, it's a fair characterization.
"I think there's definitely something to that (being) what I like to do as a coach," Duncan said. "But most of that comes back to our players and what they can do. When I first started, we did a lot of things different based on the personnel I had to use."
One thing that hasn't changed is his approach to that personnel. Whether his players wear skirts or shirts and ties off the court, the same demands remain in place on it.
"I was just as hard on the girls as I ever was on the guys," Duncan said. "Some of them handled it differently, but that's not so much a gender issue as a personality issue."
For the most part, it's been no issue at all.
"He's one of those coaches that, he gets the job done but he's able to have a good relationship with us as well," said Kimball, now in her second season under Duncan's watch. "It's good as a coach and a student."
With such mutual respect at play, not to mention the fact that he's now developed a winner in his current arena, an obvious question remains regarding Duncan's coaching future:
Is he in the girls game for the long haul, or would he like to return to his roots and see if he can experience the same success in the boys game?
"We all have long-term goals, but right now I feel I have the ideal job," Duncan said. "I think we have some unfinished business here, and our future's awfully bright."
Copyright 2018 The Lawrence Journal-World. All rights reserved. This material may not be published, broadcast, rewritten or redistributed. We strive to uphold our values for every story published.