A two-block section of Lawrence's main drag is the main place in the city for police to catch speeders.
According to numbers released by municipal court, the single city block with the most speeding citations issued in 2005 was the 2000 block of Massachusetts Street, with 848 tickets. The speed limit there is 30 mph.
Coming in second place, with 612 citations, was the 300 block of McDonald Drive in northern Lawrence. Another block on Massachusetts Street - the 2100 block - came in third place with 574 citations.
For the Rev. Leo Barbee of Victory Bible Church at 20th and Massachusetts streets, the numbers are no surprise. He sees officers running radar in his church parking lot so often that he joked the church should get a cut of the proceeds.
"They're out there all the time," he said. "I think it helps the safety of the area. I think it's good. Coming from 23rd Street to 19th Street, it's tempting to speed up : folks are driving 40, 45 mph."
The location of the city's speed traps surfaced as an issue last month after many drivers complained about being stopped and ticketed in a dormant road-construction zone on West Sixth Street. Three blocks in the work zone - the 5600 block through 5800 block of West Sixth Street - were among the top 10 blocks last year for speeding citations.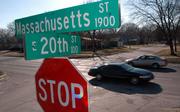 Lawrence police spokeswoman Kim Murphree said one reason officers ran radar so consistently on that stretch of Massachusetts Street was that it was a residential area with traffic from private drives entering and exiting the road. Also, police have said they tried to regularly patrol the city's entryways.
In 2005, there were 13 injury accidents and 60 noninjury accidents on Massachusetts Street between 16th and 23rd streets, according to the department's figures, compared with nine injury accidents and 223 noninjury accidents on Sixth Street; 19 noninjury accidents on McDonald Drive; and five injury accidents and 95 noninjury accidents on Kasold Drive.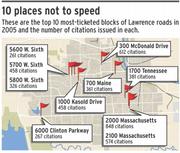 Mayor Boog Highberger said the police department's rationale for doing so much traffic enforcement on Massachusetts Street seemed reasonable to him, and he wasn't surprised by the contents of the list.
"Just on the surface, I don't see anything that seems out of line," he said.
Copyright 2018 The Lawrence Journal-World. All rights reserved. This material may not be published, broadcast, rewritten or redistributed. We strive to uphold our values for every story published.