The Free State High girls basketball team is now quite sure of the formula necessary to beat its cross-town rival.
Whether it will be good enough to lead the Firebirds into the Class 6A state tournament for just the second time in school history won't be known for another 48 hours.
Utilizing a ball-hawking press that fed an onslaught of early offense, third-seeded Free State breezed past sixth-seeded Lawrence High, 46-29, Wednesday in the opening round of the Class 6A sub-state playoffs - the Firebirds' second victory on their home floor against their intracity foe in five days and their seventh straight victory overall.
It sets up a showdown with second-seeded Olathe East on Friday in Topeka to determine who advances to the eight-team state bracket.
"Our team is very capable, and we have so much talent," said Free State point guard Lauren Kimball, who finished with a game-high 17 points. "I think if we give it everything we can, we have a definite chance at getting there."
A repeat of their opening half in the latest showdown with LHS would be a fine place to start.
Photo Gallery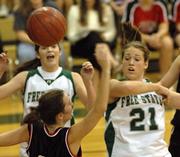 Free State High vs. Lawrence High sub-state
With Kimball and fellow guard Jenna Brantley wreaking havoc with the Lions' short-handed backcourt, Free State (14-7) opened with a 13-2 run, then used another 11-2 run midway through the second quarter to secure a commanding double-digit advantage that never withered.
"We were focused tonight and ready to play," said Free State coach Bryan Duncan about the Firebirds' early success. "Our press really hurt them tonight, and we made some brilliant plays in transition off that."
And when the Lions did find themselves able to run their halfcourt offense, they still faced the problem of actually putting the ball in the basket.
With sharp-shooting guard Sydney Wilson out for the second straight game due to a back injury, the onus fell on two additional perimeter players - Drew Huff and Danielle Bird - to carry the scoring load. Instead, LHS (9-12) hit just five of 23 shots in the first half and faced the wrong side of a 30-13 deficit.
"When the ball doesn't go in the hole, you get frustrated," LHS coach Kristin Mallory said. "We got better looks than we got last time we were playing them. We just didn't hit them."
The Lions finally showed signs of life in the third quarter, as forward Sydnei Tolefree - Wilson's replacement in the starting lineup - sparked a seven-point run that momentarily cut into the margin. However, the overriding offensive inconsistency continued, and Free State converted enough opportunities in the final 10 minutes to avoid any late-game scares.
While thrilled to have a postseason win in hand - not to mention two straight emotional triumphs over a rival - both Duncan and his charges agree there's a better complete-game effort waiting.
"I still don't feel like we shot the ball particularly well tonight from the perimeter," Duncan said. "So we certainly still have the ability to shoot the ball much better, and we're going to need to."
"There's more than we can always reach," added Kimball. "I wouldn't say that we're saving it - but I think the best is yet to come."
Meanwhile, Mallory is left to ponder an inconsistent campaign that never allowed the Lions to put a healthy lineup on the floor - from senior Kayla Nolte's season-ending ligament tear in her knee during the preseason to Wilson's current malady.
"It was definitely a roller-coaster ride, and I think that we had a lot of adversity to get through," Mallory said. "How much bad luck does one group get?"
2005-06 Journal-World Cup
2005-06 Journal-World Cup
Standings
LHS: 10
Free State: 17
LHS varsity wins: 10
Free State varsity wins: 17
Note: The girls track and field teams recorded a tie during the Sunflower League meet.
Copyright 2018 The Lawrence Journal-World. All rights reserved. This material may not be published, broadcast, rewritten or redistributed. We strive to uphold our values for every story published.