It's been 12 years since Julie Gasper sang with the Lawrence Children's Choir.
But the memories start flooding back when she listens to tapes from the group's performances.
"It was really a lot of fun," says Gasper, now a 26-year-old graduate student at Kansas University. "Even now, I still remember all the words to all the songs."
The choir, which has gained a national and even international following, celebrates its 15th anniversary Saturday with a 5:30 p.m. concert at Plymouth Congregational Church, 925 Vt. The concert will include some favorites from the choir's history, and alumni - including Gasper - have been invited back to sing one tune.
The organization has included hundreds of kids in a decade and a half. Currently, there are 120 children involved in three choirs - Cadenza, for first- and second-graders; Choristers, for third- and fourth-graders; and the main Children's Choir, which is for fifth- through ninth-graders.
Janeal Krehbiel, artistic director and co-founder of the Lawrence Children's Choir, says she had no idea the group would last so long when she started it.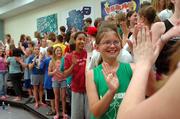 "You just kind of do something, and all of a sudden you realize how long it's been," she says.
Krehbiel moved to Lawrence, in part, to start the Children's Choir.
"I had an idea (it would work)," she says. "But no one seemed to be excited about it. People at KU said it was a good idea, but nobody wanted to get it going."
So she took on the project herself, finding meeting space in various spots around town through the years, including KU, public schools and the previous Lawrence Arts Center.
Past Event
When: Saturday, March 4, 2006, 5:30 p.m. to 6:45 p.m.
Where: Plymouth Congregational Church
Cost: $6 - $8
-->
-->
The choir has sung overseas twice, in England and Germany, and will perform this summer at the International Choral Festival in Missoula, Mont.
Some of the children say the choir's success is mostly to Krehbiel's credit.
"She pushes you, but I've learned so much," says Sarah Stern, a ninth-grader who is in her second year with the choir. "There couldn't be any better person to lead the choir."
But that doesn't mean the choir is all business, says Chamisa Edmo, also a ninth-grader in her second year.
"She's really fun," Edmo says of Krehbiel. "We always joke around."
Aidan Loveland Koster, another choir alumna who will return Saturday, says that special relationship between Krehbiel and the children was there from the start.
"It was a lot of fun, and I think part of the reason it was a lot of fun was Ms. Krehbiel gave us the impression we were really unique," says the 26-year-old Koster, who lives in Kansas City, Kan. "Lawrence had never had a children's choir before, and she wanted to be the best choir in the Midwest."
Krehbiel deflects the praise toward the parents and volunteers involved with the choir.
"It's just such a great group of people who care enough about their kids to go to the extra effort to get them here," she says. "We run an internationally known choir with a very low budget. Our volunteers have to pick up all the slack."
Krehbiel says she has friends who think she should start a choir in a larger city. But she says Lawrence has suited her just fine for 15 years - but she doesn't know how long she'll be holding the baton for the choir.
"I don't think you'll be talking to me for 25," she says. "I'll be 70 by then."
Copyright 2018 The Lawrence Journal-World. All rights reserved. This material may not be published, broadcast, rewritten or redistributed. We strive to uphold our values for every story published.