Burritos. Pizza. Beer.
College students aren't necessarily known for making good food choices, but that could change at Kansas University.
The university is working to put nutritional information for its dining hall offerings on the Internet, following the path of other universities that have armed students with some tools they need to make better food choices.
"I would definitely make better decisions," KU freshman Alicia Schmitz said. "I think we're health-conscious."
Sheryl Kidwell, assistant director of KU dining services, said the goal is to have dining services menus with each food's nutritional information online by the end of this calendar year.
"We're hearing more and more requests for (nutritional information)," Kidwell said. "We've thrown it out there as one of the many things that we want on our Web page."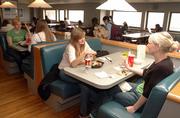 KU puts food facts on signs in its dining halls. At Mrs. E's - the nickname for Ekdahl Dining Commons - in Lewis Hall, for example, students can see the calories, fat, protein and carbohydrate content of nearly every item.
"I check out how much fat is in the foods I eat," KU freshman Stephen White said Tuesday while dining at Mrs. E's. "I don't get too much fried food."
Putting the information online is particularly helpful to students who have special dietary needs, said Missy Schrader, a registered dietitian for housing and dining services at Kansas State University. K-State has placed meal nutritional information online.
"We're seeing more and more students that are diabetics or are on some types of specialized diet," Schrader said. "It's really just a service to our students, hopefully making their stay with us better."
The sites can be sophisticated.
On K-State's Web site, students can find out how much saturated fat is in the breakfast biscuits or how much salt is in the blueberry syrup. On Harvard University's dining services Web site, students can punch in how many servings and toppings they want for their meals and the site then calculates the food facts - down to the vitamins.
Online nutritional information would be helpful, KU senior Ashley Withers said.
"So many people come and gain weight," she said, "and don't really know why."
Copyright 2018 The Lawrence Journal-World. All rights reserved. This material may not be published, broadcast, rewritten or redistributed. We strive to uphold our values for every story published.