Races at Kansas Speedway are sure to drive hospitality business into Lawrence this weekend, but their financial effects still have a long way to go before catching up to a much-anticipated NASCAR weekend two months from now.
Sunday's Kansas Lottery Indy 300, the marquee speedway event this weekend in Wyandotte County, will help rev up sales for Lawrence-area restaurants, service stations and hotels, merchants say.
But open-wheel fans aren't quite as dedicated, free-spending or extended-staying as their stock car brethren.
Not that business owners are complaining.
"Every dollar's significant now," said Bob Schumm, owner of Schumm Foods, which owns Buffalo Bob's Smokehouse at 719 Mass. "When people are out on the move, that's when people eat out - whether it's going out for fireworks or going to the races."
The Kansas Lottery Indy 300 will feature the popular Danica Patrick and series mainstays Helio Castroneves and Eddie Cheever Jr. The O'Reilly Auto Parts 250, the latest edition in NASCAR's emerging Craftsman Truck Series, will be Saturday.
The events have helped boost bookings for Lawrence hotels this weekend, but not to capacity.
"We do expect that we'll get some last-minute walk-ins," said Michael Moore, general manager of SpringHill Suites by Marriott, whose 105-room hotel is at 90 percent capacity for the weekend, about half of it for race fans. "With the big race on Sunday, the majority of our business will be Saturday night."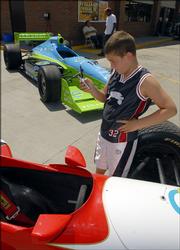 Such room availability was nonexistent a month ago, when the NHRA O'Reilly Summer Nationals drag races were in Topeka. And within days of Kansas Speedway announcing its dates for NASCAR's Yellow 300 (a Busch Series race set for Sept. 30) and the Banquet 400 (Nextel Cup, Oct. 1), SpringHill Suites didn't have a single room left for those race dates.
The open-wheel and truck races simply don't accelerate demand the way the stock cars do, Moore said. His average room rate for this weekend is $110, down from $114 for the big NASCAR weekend and well off the $150 or so he will secure for Kansas University commencement.
"It's still great for business," Moore said.
Service stations also typically pick up plenty of business on race weekends, as some fans shy away from long lines near the speedway in favor of shorter waits in outlying communities. And the lines can start early; Thursday morning in Basehor, a Casey's had 50 people waiting in line to buy ethanol-blend fuel from IndyCar racers doing a promotion.
Closer to home, Schumm is hoping the races pump up sales. He knows the approaching NASCAR weekend will help about as much as a single, early-season KU football game, good enough to increase his weekend take by 10 percent to 15 percent.
"It'll be like playing Southern New Mexico State at 8 o'clock at night on a Thursday night," he said. "We do a little bit more because it's at night."
This weekend will be strong, he said, but not necessarily all because of the open-wheel races.
"NASCAR's a Bud Light crowd," he said. "This one's more wine and cheese."
Copyright 2018 The Lawrence Journal-World. All rights reserved. This material may not be published, broadcast, rewritten or redistributed. We strive to uphold our values for every story published.