Lavender, once just a dainty toilet and linen-closet favorite, has hit the grocery shelves in full force - because cooks have latched on to it.
Products ranging from lavender-infused honey to chocolates, teas and more are being marketed across the board, and for good reason. The flowers' charms are not only being lavished on desserts, but savory dishes are being enriched, too, by this aromatic member of the mint family that adds a fresh, slightly sweet flavor to any food.
Celebrate the charming mauve-blue marvel now as it blooms in gardens, and make note of ideas for using the dried form. Here are some tips: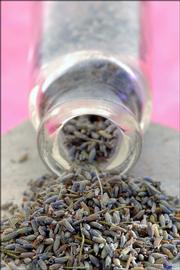 ¢ Make a sweet lavender sugar to top cakes and desserts such as creme brulee. Add 2 tablespoons of dried lavender to 1 cup of sugar and store in a sealed container for 1 to 2 weeks. Sift before using.
¢ Substitute dried lavender for rosemary in any recipe. Lavender bread? Yes, it really adds a subtle extra layer of flavor.
¢ Use in grilling salmon, chicken or lamb, adding it to your favorite marinades.
¢ Dress a salad with a sweet and tangy honey, lavender and mustard combination.
¢ Rub it on: Create a simple spice rub for any meat using 2 tablespoons ground black pepper, 3 tablespoons garlic powder, 3 tablespoons salt and 1 1/2 tablespoons ground lavender.
Lavender also is one of the key ingredients in Herbes de Provence, a widely available ready-mixed herb blend that's useful for savory chicken and fish dishes you may be planning for summer picnics and family events.
Source: The Spice Hunter
Copyright 2018 The Lawrence Journal-World. All rights reserved. This material may not be published, broadcast, rewritten or redistributed. We strive to uphold our values for every story published.