La Niña no más.
The Pacific Ocean weather system that usually means hot, dry seasons for Kansas and the rest of the Midwest is not expected in the next few months, meteorologists predict.
That fact, combined with some recent heavy rains in areas of western Kansas that have been ravaged by drought since 2000, have some folks hoping the worst may be over.
Ken Palmgren, a farmer near Goodland, said Tuesday that any rain would be welcome.
"It's too late for the wheat, but we have a lot of spring crops and livestock, so it's very good for our pastures," he said. "We're thankful for any rain we can get, and hopefully it will come."
State climatologist Mary Knapp said officials were anxiously watching the effect of an absent La Niña.
"Historically, when there are La Niñas, it's much more strongly correlated with hot, dry conditions," Knapp said. "Right now we are in neutral. The question will be what will happen next. We're moving out of our wettest period of the year."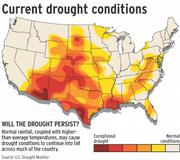 Goodland received significant rains this month, including 4.3 inches June 16, which has put it ahead of what is normal for this time of year, according to the National Weather Service.
But the storms have been spotty. For example, while Goodland was getting swamped, Palmgren's farm 10 miles east received 0.16 of an inch. And the rains follow an extremely dry winter.
"Timing is everything," said Scott Mentzer, meteorologist in charge at the National Weather Service in Goodland. "The drought is going to continue, and the last outlooks say it is going to at least continue through the fall months."
Knapp said while some areas of western Kansas received beneficial rains this month, "it wasn't enough to erase the drought by any means."
Mostly the western third of the state has been in moderate to extreme drought, and a small section of northeast Kansas above Lawrence has been in moderate drought, Knapp said.
Douglas County wheat farmers got in a good winter wheat crop, said Bill Wood, Douglas County extension agent for agriculture.
But, Wood said, soybeans and corn, which dominate county farming, "really need a drink of water."
Concerning western Kansas, Wood said he was visiting family in Pratt last week and saw a rare sight: standing water in some fields.
"I think there has been some rain in the western part of the state," he said.
Satellite images produced by the Kansas Applied Remote Sensing Program at Kansas University show vegetation in the western portions of the state is under stress.
Also, the lack of rain has resulted in a drawdown of groundwater levels.
Palmgren said many farmers started irrigating corn crops much earlier than usual.
Groundwater levels decreased an average of 0.57 feet from January 2005 to January 2006, according to the Kansas Geological Survey's annual report on 1,300 wells in central and western Kansas. The largest decrease occurred in southwestern Kansas, where the average decline was 1.15 feet.
"It's something to be concerned about," said Brownie Wilson, hydrological data manager at the KU-based survey. "Depending on where you are at, the recharge rates can be so low they are not going to recover."
Copyright 2018 The Lawrence Journal-World. All rights reserved. This material may not be published, broadcast, rewritten or redistributed. We strive to uphold our values for every story published.