Lawrence Police searched late Monday night for a man suspected of aggravated assault after a truck railroaded another car into the side of a trailer home.
The search led police into nearby trailer homes and through narrow alleyways in the Gaslight Village mobile home park, 1900 W. 31st St., as the suspect's truck sat parked nearby.
A block over, a white sport coupe had knocked a trailer off its foundation and sat buried in its wall.
On first glance, the home appeared ruined.
"I'm no trailer expert, but I'd say that's totaled," Police Sgt. Michael Monroe said at the scene.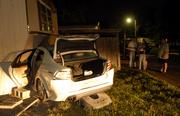 According to early police interviews, the altercations between the driver of the truck and passengers in the car may have started elsewhere before ending in the Gaslight Village around 10:30 p.m. Monday night.
Monroe said initial interviews with the three people riding in the coupe at the time of the wreck didn't reveal much, as the driver and passengers were fairly uncooperative.
The three were taken back to the Douglas County Law Enforcement Center for further questioning.
Police were also searching for clues to the suspect's whereabouts, with little initial luck. Monroe said he believed the truck's driver had an association with some residents in the park.
No injuries were reported in the crash. The owner of the mobile home was not at home when the crash occurred.
Copyright 2018 The Lawrence Journal-World. All rights reserved. This material may not be published, broadcast, rewritten or redistributed. We strive to uphold our values for every story published.