Four pelicans were being detained in an animal drunk tank Friday on suspicion of public intoxication, authorities in Southern California said.
One of the birds was in guarded condition after allegedly flying under the influence Thursday and crashing through the windshield of a car on Pacific Coast Highway in Laguna Beach, Calif. The driver was rattled but uninjured.
The other California brown pelicans were nabbed in back yards or wandering streets in a daze.
Although toxicology tests aren't complete (there are no bird breathalyzers), such behavior usually signals domoic acid poisoning from eating algae, said Lisa Birkle, assistant wildlife director at the Wetlands and Wildlife Care Center in Huntington Beach, Calif., which is caring for the brown pelicans.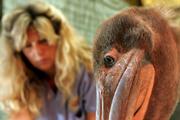 Domoic acid was likely to have been the culprit behind a 1961 sea bird invasion that inspired Alfred Hitchcock's classic horror film "The Birds."
According to news reports, thousands of befuddled birds rained down on Northern California towns in August 1961, slamming into buildings and pecking eight humans.
Nobody is predicting a Hitchcockian invasion in the latest incident, but Birkle urged Southern California residents to be on the lookout for pelicans acting disoriented or turning up in unusual locations.
Copyright 2018 The Lawrence Journal-World. All rights reserved. This material may not be published, broadcast, rewritten or redistributed. We strive to uphold our values for every story published.