Sauer-Danfoss will celebrate more than a year of accident-free work with a ceremony today at the company's plant in the East Hills Business Park.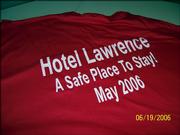 The plant received a Perfect Record Award, given by the National Safety Council in recognition for operating 365 days without having any employee miss time at work because of a work-related injury.
Employees on all three shifts will receive American Red Cross-approved first aid kits for home use. On Thursday, supervisors will cook meals for all 250 employees and give them T-shirts marking the achievement. The shirts refer to the plant as a hotel because of its increasing number of business units.
The plant produces hydrostatic transmissions and related products for use in equipment, ranging from lawn mowers to heavy duty off-road machines.
Copyright 2018 The Lawrence Journal-World. All rights reserved. This material may not be published, broadcast, rewritten or redistributed. We strive to uphold our values for every story published.