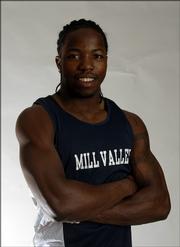 Making his way down to a Wichita hotel lobby for breakfast, Justin Woods figured eating his Wheaties would give him an extra edge once the gun sounded later that day at the Class 5A state track meet.
Instead, the morning newspaper gave the Mill Valley High junior something a bowl of cereal couldn't.
"My coach showed me the Wichita Eagle, and it had a story on Jake Sharp. He was talking all kinds of trash," said Woods about the Salina Central speedster who has signed to play football at Kansas University this fall.
"That made me mad. I used that as motivation."
The extra buzz, coupled with a healthy dose of natural talent, helped Woods turn in one of the top all-around performances during this year's two-day trackfest at Cessna Stadium.
First, he avenged his loss to Sharp at the Kansas Relays and won gold with a blistering 10.56 seconds in the 100 meters - the second-fastest time across all six classes competing in Wichita. Hours later, he got the better of Sharp again, winning the 200 gold in 21.44 - easily the best time of the day.
Photo Gallery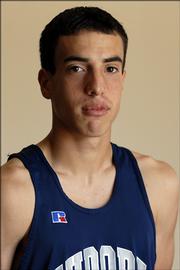 All-Area Boys Track
The All-Area boys track team was selected by The Journal-World sports staff and is based heavily on voting by area coaches and performances throughout the season. Athletes were eligible for nomination in multiple events, yet can fill just one position on the All-Area team.
Add in his anchor leg in the 4x400 relay, where the Jaguars ran a personal-best 3 minutes, 26.40 seconds to finish fourth, and Woods had all the ammunition he needed to earn a little press of his own as the All-Area Boys Track and Field Athlete of the Year.
"That was my goal from the beginning of the season," Woods said about the golden double. "But I didn't think it was actually going to happen. There were a couple of guys from last year in front of me.
"My goal was to make it to state. And once I made it to state, I had to finish what I started."
That willingness to take care of business - both on the track and away from it - had Mill Valley coach Mark Peck excited about what the speedster might accomplish at state.
"From last year to this year, he improved leaps and bounds," said Peck, now in his sixth year at Mill Valley following a lengthy tenure across the district at De Soto. "A lot of that I really attribute to his work ethic and his devotion to athletics. He works out relentlessly.
"Also, the maturity development, that has a lot to do with it, too. A little faster, a little stronger, a little smarter."
All of which leads to an exciting forecast for 2007. With one more year to keep working on those "littles," Woods - who has committed orally to play football at Kansas State in 2007 - and his coach are expecting a lot out of someone who already arguably is the fastest prep in Kansas.
"It's confidence-building," Woods said of his final performance of 2006. "My goal is to run at least a 10.3 (in the 100), and I was close this year. I'll be pushing that much harder to get that time."
"He's one of those gifted kids," Peck added. "I think if he just stays straight and stays on the right course of working hard, he'll really reap the benefits."
All-Area Boys Track
Athlete of the year: Justin Woods ¢ Mill Valley ¢ JR. ¢ 100 meters Cody Burns ¢ Jr. Eudora ¢ 3,200 Finished 10th at Class 4A state meet in 10 minutes, 36.95 seconds Keith Cowart ¢ Sr. ¢ Baldwin ¢ 1,600 Finished sixth at Class 4A state meet in 4 minutes, 41.31 seconds Aaron Douglas ¢ Sr. ¢ Ottawa ¢ 110 hurdles Finished second at Class 5A state meet in 14.92 seconds Kent Fleming ¢ Sr. ¢ Tonganoxie ¢ Shot put Finished ninth at Class 4A state meet with throw of 48 feet, 11 inches Travis Guthrie ¢ Jr. ¢ Tonganoxie ¢ Javelin Finished eighth at Class 4A state meet with throw of 167 feet, 4 inches Aaron Hannon ¢ Sr. ¢ Baldwin ¢ 300 hurdles Won Class 4A state title in 39.40 seconds James Hightree ¢ Sr. ¢ Baldwin ¢ Discus Finished ninth at Class 4A state meet with throw of 145 feet, 0 inches Travis Messer ¢ Sr. ¢ Wellsville ¢ High jump Finished seventh at Class 3A state meet with leap of 6 feet, 0 inches Aaron Mills ¢ Jr. ¢ Baldwin ¢ Long jump Won Class 4A state title with leap of 22 feet, 83â4 inches Josh Phillips ¢ Sr. ¢ Wellsville ¢ Pole vault Finished fifth at Class 3A state meet with vault of 13 feet, 0 inches Jack Sachse ¢ Sr. ¢ Ottawa ¢ 800 Won Class 5A state title in 1 minute, 57.11 seconds Trey Watts ¢ Sr. ¢ Ottawa ¢ 200 Clocked 22.68 seconds in Class 5A state preliminaries
Copyright 2018 The Lawrence Journal-World. All rights reserved. This material may not be published, broadcast, rewritten or redistributed. We strive to uphold our values for every story published.