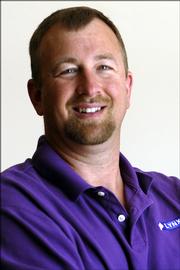 Success not only breeds success, it breeds expectations.
So when the Baldwin High boys track team embarked on the 2006 season, the primary motivation for a program with two state titles in the previous five years wasn't limited to sending several kids to Wichita and having a good time.
"They like to set high goals, and making it to state is not enough," said Baldwin coach Mike Spielman, the architect behind not only the powerful boys track squad but the Bulldogs' yearly dominance on the cross country circuit. "They really wanted to win it and do well. They've got high expectations.
"Going in we knew we had a pretty solid team. Our goal was to try to win it."
Baldwin ultimately came up just short, not quite able to match the firepower of team champ Abilene and leaving Cessna Stadium with the Class 4A silver trophy.
While not the pinnacle of achievement the Bulldogs were hoping for, it did allow one top honor to come their way - Spielman's recognition as the All-Area Boys Track and Field Coach of the Year.
In addition to guiding Baldwin to its runner-up team finish, Spielman's tutelage helped senior Aaron Hannon (300-meter hurdles) and junior Aaron Mills (long jump) develop into state champions, and saw a number of additional performers - across a wide variety of disciplines - secure medals on the biggest stage of the season.
"As the year went on, we got deeper and deeper. It's one of the most well rounded teams we've had here at Baldwin," Spielman said. "It was one of those years where everything just kind of came together for us.
"It was just fun going into the meets with these guys."
Copyright 2018 The Lawrence Journal-World. All rights reserved. This material may not be published, broadcast, rewritten or redistributed. We strive to uphold our values for every story published.