Sedona, Ariz. — Fire crews struggled with hot, dry and windy weather Monday as they fought to protect hundreds of homes and businesses from a 1,100-acre wildfire creeping into northern Arizona's scenic Oak Creek Canyon.
The fire started Sunday and spread quickly, forcing the evacuation of about 400 homes and businesses in the narrow canyon and about 100 homes in five subdivisions on the rugged north side of Sedona. The fire was 5 percent contained late Monday afternoon, officials said.
"We need some rain in the worst way here, and our monsoons aren't due to start till after July 4; it's been my experience. So, pray for rain," said Serge Wright, an optometrist whose home wasn't one of those that was evacuated.
The temperature rose into the upper 90s by early afternoon, with a forecast of very low humidity and winds of 10 to 20 mph.
By early afternoon, flames had edged about 300 feet below the rim of the canyon in spots and were about a half-mile from some homes, said Connie Birkland, a spokeswoman for fire crews. No buildings had been damaged yet.
Birkland said the estimate of the burned area had been reduced from 3,000 acres to about 1,100 after more precise mapping during the day. Authorities believe the blaze started in a camp used by transients.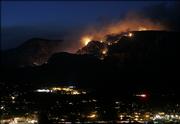 In neighboring New Mexico, four fires started by lightning had burned almost 24,000 acres in the tinder-dry Gila National Forest in the southwestern part of the state. The biggest of the three had charred nearly 11,000 acres and threatened 150 homes in the Lake Roberts area. Residents will be allowed to return today, said fire information officer Shayna Carney.
In southern Colorado, another wildfire grew to more than 500 acres Monday, prompting officials to urge evacuations of the 246 homes in two rural subdivisions and close a highway in Costilla County, about 150 miles south of Denver.
Wildfires have burned more than 3.1 million acres nationwide so far this year, well ahead of the average of about 900,000 acres by this time, the National Interagency Fire Center reported.
Copyright 2018 The Associated Press. All rights reserved. This material may not be published, broadcast, rewritten or redistributed. We strive to uphold our values for every story published.