Anna Harvey, 23, first noticed Stephen Vinson, 22, when was a sophomore playing basketball for Lawrence High School and she was rooting for rival Free State High School as a cheerleader her junior year.
"I knew who he was, and I was definitely attracted," Anna recalled.
"I had a pretty good game that night," Stephen said, laughing.
She told a pal, Nicole Henry, an LHS student, that she "thought Stephen was very cute and she liked him."
Nicole, who now dates former KU basketball player Christian Moody, came back with the bad news that Stephen "wanted to focus on basketball and didn't want to get involved."
So Anna focused on running track, excelling at pole vaulting, being homecoming queen and making the National Honor Society. She also dated other boys.
"A year goes by, and I have this friend, Brady Flannery, who was also friends with Stephen," Anna said. He arranged for them to meet at a party at Stephen's house with a "bunch of other people."
Four people showed up.
Audio Slideshow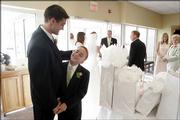 Couples - Harvey and Vinson wedding
"I don't think he said a word to me all night ... my second rejection," Anna said. But he was watching.
Stephen called Anna the following day, and afterwards they spoke every day for months. On Jan. 20, 2001, he called and told Anna he'd be on a Christian radio show. She and her family were listening when Stephen announced he had a girlfriend, Anna Harvey.
It was official: They were a couple.
They continued to date while students at KU. Stephen was No. 20 on KU's basketball team, and Anna only missed one of KU's home games in four years and attended lots of out-of-town games.
On July 4, 2005, Stephen asked Joe and Mary Harvey if he could marry their daughter. When they gave their approval, he asked if he could borrow their cabin at Lake Dabinawa to pop the question.
The next day, Stephen set up displays of photos and personal communications each had sent to the other.
Anna and Stephen in their own words
"I'm a pack rat, and I've kept every card, every picture of us for the past five years," Stephen said.
He spread two trash bags of fresh rose petals from the door to the living room, where he created a rose-petal heart. He set out 250 tiny candles and a large bouquet of roses. Steve's mother, Cyndi Mona, lit the candles before the couple arrived.
"When we walked into the cabin that night, I couldn't believe it," Anna said. "He's always been so sweet and thoughtful on special occasions, but this was over the top."
Stephen had yet to tell Anna that he loved her. Instead, he would say, "You complete me."
When Anna saw an "I love you" spelled out in stars, she thought, "This must be it."
She opened a letter.
"It was a really, really sweet passage from the Bible - Ephesians 5, verses 25 through 29 - about husbands, wives and love," she said, tearing.
Stephen got down on his knee and popped the question.
"It was like the movies," Anna said. "I tackled him and said yes."
They were married May 19, and honeymooned for two weeks in Mexico - the first week alone and the second with 25 family members.
"Faith is the base and foundation of our relationship and our lives," Stephen said, "and it influences every decision we make."
This summer, they'll spend two months in Colorado Springs at a James Dobson Focus on the Family seminar for family and marriage.
Copyright 2018 The Lawrence Journal-World. All rights reserved. This material may not be published, broadcast, rewritten or redistributed. We strive to uphold our values for every story published.