There's a cheap, easy way to add a few precious inches to this summer's oh-so-scarce precipitation.
"Rain barrels," said Diana Sjogren, a waste reduction and recycling specialist for the city.
Sjogren is coordinating a series of workshops aimed at touting the benefits of homeowners using barrels to capture and store rainwater for later use on the lawn or in the garden.
"The benefits are twofold," she said. "They decrease the amount of water reaching the stormwater drains, and plants like rainwater better."
Rainwater is naturally soft and free of minerals, chlorine, fluoride and other chemicals found in tap water.
The next workshops will be at 8 a.m. and 10 a.m. Saturday at the Douglas County Public Works maintenance yard, 711 E. 23rd St.
"The 10 a.m. session is almost full, but we have several openings for the 8 a.m. session," Sjogren said.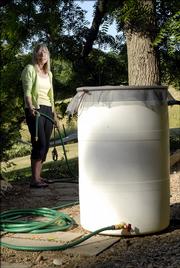 Another session is set for 5:30 p.m. June 21 at the maintenance yard. For more information, call the recycling office, 832-3030, or e-mail Sjogren at dsjogren@ci.lawrence.ks.us.
Registration is $20 and includes a barrel.
"We'll show you how to do everything," Sjogren said. "It's easy. The only hard part is cutting the downspout, and that's not too hard."
The barrels are lightweight.
"I can put one in the back of my Buick with no trouble at all," Sjogren said.
Connie Spitz, an avid gardener, attended a Sjogren-led workshop Tuesday. She installed her rain barrel the next day.
"I want to save a little money and I just hated seeing all that water run off the roof and go to waste," said Spitz, who lives south of Lawrence. "Plus, my plants will be happier."
Unfortunately for Spitz's flowers, her barrel is empty so far.
"It hasn't rained yet," she said.
Copyright 2017 The Lawrence Journal-World. All rights reserved. This material may not be published, broadcast, rewritten or redistributed. We strive to uphold our values for every story published.