Business has increased more than 75 percent during the past three years at the KU Small Business Development Center, but that's not enough for Will Katz.
Katz, who started this month as the center's regional director, says he wants to expand the center's mission beyond its common perception as a place solely for entrepreneurs to refine their ideas, dream of rapid growth and crank out business plans.
In reality, Katz says, the center's next big growth drive should be to help businesses that already have roots begin to expand.
"Going from 15 (employees) to 40 is a lot more easier than going from zero to 10," Katz says at the center, inside the Lawrence Chamber of Commerce Building at 734 Vt. "It's easier to make an impact on our local economy by expanding our existing small businesses."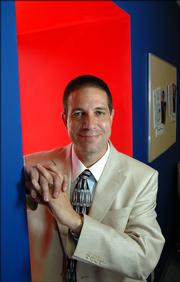 It's not that Katz has anything against startups. He's already hearing plenty of promising ideas from people stopping by the center.
It's just that many of the 321 clients who received individual counseling at the center last year - up from 182 in 2003 - never saw their plans materialize.
So after 20 years of living in Lawrence, and following up on 15 months of volunteering as a consultant at the center, Katz has plans to expand the center's reach. He wants to get in touch with existing businesses who may not even know the center exists.
The place is open from 8 a.m. to 5 p.m. weekdays, and Katz and consultant Maggie Bornholdt are willing to help compile business valuations, develop strategic plans and devise marketing strategies.
"Fifty percent of the jobs in this country are provided by small businesses, and small businesses make up 99 percent of the actual employers in this country," he said. "It's a very, very valuable resource to any local economy, and you've got to have small businesses as an engine to drive it."
The center provides its services free of charge and is financed by Kansas University, Kansas Department of Commerce, Lawrence Chamber of Commerce and the U.S. Small Business Administration.
More about the SBDC director
About Will Katz
Job: Regional director, KU Small Business Development Center Age: 38 Education: Master of Business Administration, Kansas University, 2001; bachelor's degree in philosophy and Russian, KU, 1993 Work experience: Past two years with Target Corp.'s distribution center in Topeka, as an operations group leader; previous 17 years with E and E Display Group in Lawrence, starting as a temporary laborer and, for the last two years, serving as production manager. Something you might not know: Katz, a former musician, used to have hair "down to the belt loops" and ride a motorcycle. Now he's wearing suits, sporting Marine-worthy hair and tooling around town in a 1975 Olds Delta 88 convertible - white on white, with a red interior. "I decided I wanted to have four wheels on the ground instead of two," he says. Contact: The center is located in the Lawrence Chamber of Commerce building at 734 Vt., and is open from 8 a.m. to 5 p.m. weekdays. Contact Katz at (785) 843-8844 or by e-mail, willkatz@ku.edu.
Copyright 2018 The Lawrence Journal-World. All rights reserved. This material may not be published, broadcast, rewritten or redistributed. We strive to uphold our values for every story published.