A second company says it wants to buy the dormant and polluted Farmland Industries fertilizer plant east of Lawrence, and there still may be others waiting in the wings.
Leaders with St. Louis-based Environmental Liability Transfer Inc. said Wednesday they were interested in turning the site into a mixed used development that would include multifamily residential units, retail and an industrial park.
And they don't plan on letting the 467-acre site - just west of the East Hills Business Park - go without a fight. The property, because it is wrapped up in the bankruptcy proceedings of Farmland Industries, must be sold at public auction.
"We'll be happy to go toe-to-toe at an auction," said Randy Jostes, president and chief executive officer of the privately owned company that specializes in cleaning up and redeveloping environmentally troubled properties.
The interest from Environmental Liability Transfer comes one day after TRC Companies Inc., a Connecticut-based company that specializes in cleaning up sites, said it was planning to make a formal offer for the property. That offer likely would trigger a public auction, which may not occur for several months to give other bidders an opportunity to enter the process. TRC said it did not have specific plans for how the property should be redeveloped.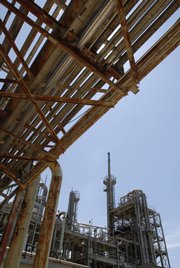 Members of the county and city commissions previously said they oppose the property being used for anything other than industrial purposes.
But Douglas County Commissioner Bob Johnson indicated that there could be wiggle room in the position of local leaders. He said if the entire site were developed for industry, it likely would require public spending to be feasible. If the private sector proposed a mixed-use development that included large amounts of industrial but did not require public money, he would listen so long as there were assurances all the property would be cleaned.
"It could be a trade-off," Johnson said. "If we could accomplish most of what we want through the private sector, I would be in favor of that. I would be willing to give a little to get a lot."
But other commissioners weren't bending on the idea that the entire site needed to be industrial because any residential or even commercial development would make it very difficult to ever develop industrial uses on the property.
"People aren't going to let you build an industrial park next to their new home," said Douglas County Commissioner Charles Jones. "I'm pretty mystified by Bob's comments because he knows we have consistently told people that's not our position."
Kamyar Manesh, a trust administrator for the Farmland property, confirmed that Environmental Liability Transfer had expressed an interest in the property. He said four groups had shown what he considered serious interest in the property. That includes TRC, ELT and the city/county. There was another private company he declined to identify.
More about Farmland Industries
"There have been other folks who have had kicking the tires type of interest out here," Manesh said. "My opinion is that once the auction is triggered, there may be even more people coming forward."
Manesh said the Farmland bankruptcy trust - unlike the city and county - has no problem with the site being developed to include retail and residential uses. He estimated that about 250 acres of the site have no environmental issues that would prohibit any type of development. The portions of the property that are polluted mainly suffer from nitrogen - basically fertilizer placed on farm fields - that has leaked into the groundwater. A system of wells is pumping that water in an attempt to keep it from spreading.
The bankruptcy court also isn't likely to consider final use of the property when it is auctioned. But the city and county have ways to control the property's use. Currently, the site is not within city limits. Any large-scale development would require annexation, and the site isn't zoned for retail or large-scale residential.
Farmland Industries
Jostes said his company expressed its interest to the Farmland trust late last year. Continued growth in the greater Kansas City area, along with the state's interest in creating a high-tech economy, spurred his firm's interest in the site, he said.
"We have been watching the growth corridor from Lawrence to Kansas City for a while now," Jostes said "We try to look out 10 years to see what would be a good investment, and this looks like it could be one."
The company, which is privately owned, touts that during the past 20 years it has cleaned properties totaling more than $750 million in environmental problems. Some of its projects include redeveloping an aluminum smelter in the Spokane, Wash., area that is being converted to retail and residential use. The company also points to redevelopments involving former manufacturing plants for General Motors, Caterpillar Inc. and Kraft Foods.
Copyright 2018 The Lawrence Journal-World. All rights reserved. This material may not be published, broadcast, rewritten or redistributed. We strive to uphold our values for every story published.