A large national firm that specializes in cleaning up environmentally-blighted properties soon will offer to buy the vacant Farmland Industries fertilizer plant east of Lawrence.
TRC Companies Inc.'s only plans so far are to clean up the effects of years of nitrogen spills that have scared off developers from purchasing the property for about five years.
But once the environmental cloud is removed from the 467-acre property - which is just west of the East Hills Business Park - city leaders believe the property will be poised for redevelopment.
"It is a nicely situated piece of property," said Tim Daugherty, a former Farmland employee who is helping Windsor, Conn.-based TRC facilitate the deal. "It is a gateway to the city. There's a lot of interest from the city, the county and the other stakeholders in how to make that property useful to the economy again.
"With that interest and energy, you will see something positive happen, if you do it the right way."
The fertilizer plant closed in 2001 after it became embroiled in the bankruptcy of Kansas City, Mo.-based Farmland Industries.
TRC officials aren't yet proposing a specific use - such as industrial, commercial or residential development - for the property. Instead, officials said they would first focus on the cleanup and then worry about how the property could be redeveloped.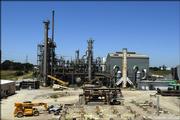 "We've met with some city and county stakeholders, and they have some very specific ideas about what they would like to see go onto the site," said David Miller, a senior program manager with TRC. "We're confident that an end use can be found that is agreeable to all parties."
Exploring a purchase
City and county commissioners for several years also have been exploring the possible purchase of the site. They've said they strongly prefer the entire property be used for an industrial park and open space.
Douglas County Commissioner Charles Jones said he is cautiously optimistic about TRC's interest in the property as long as the company understands the community thinks it is only appropriate for industrial use, not housing or other types of development.
More about Farmland Industries
"I don't think there is even a millimeter of flex in this being anything other than industrial," Jones said.
Jones also said he wanted to make sure that a thorough review of the company was done to ensure that it had the proper experience and financial capability to adequately tackle the project.
The company - which is publicly traded on the New York Stock Exchange - has been in the financial news lately. In May, the company announced that it would not meet a deadline to file its annual report. That followed an announcement in February when the company said it would have to restate some of its earnings for 2001 through 2004 related to its environmental cleanup operations.
Miller said that the delay resulted from an audit that required the company to change how it accounts for certain revenues but that it was not expected to result in a net loss for the company. He said the company would provide all the necessary financial assurances - such as surety bonds or other mechanisms - to ensure that the money is available to clean up the site.
"We're confident in representing to everyone that we're financially sound," Miller said.
Company's track record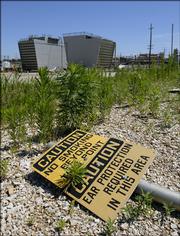 Miller pointed to the company's track record of cleaning up properties. He said the company has cleaned up about $430 million in environmental liabilities at about 90 different sites.
Some of its more high profile projects have included a $100 million cleanup of a former power plant in midtown Manhattan in New York that is being redeveloped into a $1 billion commercial and residential center. The company also touts a 30-acre redevelopment of a former manufacturing plant in Kenosha, Wis., that is in the process of being turned into a commercial and retail development.
Jones said he's counting on the Kansas Department of Health and Environment to review the company's qualifications. KDHE will be involved in the process because it oversees an approximately $7 million escrow account that Farmland Industries was required to create before it dissolved to help pay for environmental issues at the site. The department also is the chief regulatory agency responsible for monitoring the cleanup of the plant.
Mike Heideman, a spokesman with KDHE, said the department will have the company answer several questions about its financial wherewithal.
"You know, my general thought is that we need to see that property go back to work," Jones said. "If the private sector is willing to do the heavy lifting on it, that would be great. But right now there probably are more questions than answers."
Public-private partnership?
One question is whether a private developer would be able to turn the property into an industrial park without help from the public sector. Jones said he anticipated the city and county would have to consider entering a public-private partnership to facilitate the property being used as an industrial park.
Farmland Industries
"The economics of an industrial park are very, very tough for the private sector," Jones said.
Miller declined to comment on a price that TRC was willing to offer for the property. Because the site is part of a bankruptcy proceeding, any sale would involve a public auction overseen by the bankruptcy court. But the auction does not begin until someone steps forward to make an offer.
TRC has not yet made an offer but has been granted an exclusive period to make an offer by the FI Liquidating Trust, which oversees the remaining Farmland assets. Miller said TRC intends to make an official offer in the "near term."
Miller did not give a specific timeline for how long it would take to clean the property. But he said some cleanup and development could happen simultaneously.
Copyright 2018 The Lawrence Journal-World. All rights reserved. This material may not be published, broadcast, rewritten or redistributed. We strive to uphold our values for every story published.