Blue-chip high school basketball recruits Darrell Arthur and Sherron Collins discussed the possibility of attending the same college last Oct. 14 while sitting in the bleachers soaking in the atmosphere at "Late Night in the Phog" in Allen Fieldhouse.
"I asked him, 'Do you like it here?' He said, 'Yeah, I like it. I might come.' I said, 'I might come, too.' It just took me longer," said Arthur, a 6-foot-9 forward from Dallas.
He signed with Kansas University on May 9 - six months after 5-11 Chicago point guard Collins declared his intentions to become a Jayhawk.
The two pals, whose friendship blossomed during their week at the McDonald's All-America game in March in San Diego, stood together in Allen Fieldhouse on Tuesday, speaking to media members for the first time since arriving for summer school at KU.
"When I heard he signed, I was going crazy back home. I enjoy being around him. I tried to help get him here," Collins said of Arthur. "He's a high-flyer. He'll play above the rim."
Arthur figures to catch a batch of alley-oop passes from Collins during summer pick-up games. Collins, in averaging 26 points a game as a senior, also was known as an unselfish distributor. The two, who have been in town less than a week, have started the June regimen of scrimmaging and lifting weights up to five times a week.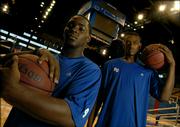 "The first couple of days have kind of been tough, but there's been excitement at the same time," said Collins. He graduated from Chicago's Crane High on Saturday and moved into his Jayhawker Towers apartment Sunday with roommate Brady Morningstar.
"The workouts are real hard. High school to college is a big transition. Once I get in basketball shape, I'll be all right," added the 195-pound Collins, who says he wants to shed eight pounds off a frame that suited him well as a wide receiver on Crane's football team.
Arthur - who arrived on campus a few days before Collins and is rooming with soph Mario Chalmers - says college life "will take some getting used to. I've never been away from home for a long time, never been away from my mom.
Audio Clips
Darrell Arthur Interview, 6-13-06
"I've got to get adapted to it. We've been having fun lately, hanging out with the guys, trying to get attached to the school. I'll get used to it."
Both players - who are expected to play significant minutes their freshman seasons - are trying to quickly adjust to the pace of college basketball.
"I'm not going through as much as I went through at Chicago. I don't have to force as many shots like I had to," Collins said. "When teammates catch the ball here, they finish. It's a good workout."
The 220-pound Arthur, who has been playing small forward and power forward in pick-up games, already has been introduced to experienced KU big men C.J. Giles, Darnell Jackson and Sasha Kaun, plus Julian Wright, who plays inside and out.
"I'm trying to get in shape - get in the weight room so I can be physical down low. It's my weakness now," said Arthur, who wants to gain 10 pounds. "I'm trying to adapt to how fast the game is and how strong the players are. The Big 12 is a physical conference. I have to be ready for that."
There's time to adjust between now and mid-October.
"I'm just trying to fit in with the group, help out the team and win a national championship," said Arthur, who averaged 18 points and 10 rebounds his senior year at South Oak Cliff High.
As far as how much they play, and if they start, the freshmen insist they are not concerned about specifics right now.
"Most of my summer is working on my jump shot and getting down (in weight)," Collins said. "I really can't talk right now, but when the season comes, we'll see what happens."
"We already have a great team with or without me," Arthur said. "Everybody's coming back from a team that won the Big 12 championship. We've got a good chance to win the national championship, too, with this team. I just want to help out."
Copyright 2018 The Lawrence Journal-World. All rights reserved. This material may not be published, broadcast, rewritten or redistributed. We strive to uphold our values for every story published.