Baldwin — By George Diepenbrock
gdiepenbrock@ljworld.com
Bill Cavender is happy to see the Black Jack Battlefield site spruced up.
Cavender is a descendant of Robert Hall Pearson, who fought with abolitionist forces under John Brown there on June 2, 1856.
Pearson later bought the land southeast of Baldwin, where what is recognized as the first armed battle between pro-slavery forces and abolitionists took place.
"It means a lot to us because my great-grandfather was in it," Cavender said Friday evening on the battlefield as he took a tour led by Kerry Altenbernd.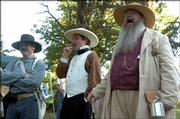 On the final tour Friday evening, Altenbernd spoke and was dressed in the character of a man who fought in the western woods alongside Brown that morning.
The Black Jack Battlefield Trust, of which Altenbernd is a member, now owns the land, and its members are celebrating with events marking the 150th anniversary of the battle this weekend.
"You are on sacred ground here," Altenbernd told the 30 people on the tour.
They walked into the open battlefield and stopped near the edge of the woods where Brown and his 30 or so men exchanged fire through trees and brush with the 75 to 80 men who were with Henry Clay Pate.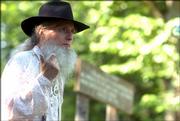 "As we started fighting down here, it started getting hot and heavy. There was a lot of shooting," Altenbernd said.
No one was killed in the three-hour battle, but several fighters were injured. Brown and his men eventually captured Pate, but Brown released him after receiving orders from officers at Fort Leavenworth.
"We Kansans know that the Civil War started here in Kansas," Altenbernd told his tour group.
The 30 in the group listened intently to their guide, and after it ended, they quietly explored the battlefield.
A Civil War-era string melody was the only sound heard in the distance, and it seemed to take the group back in time.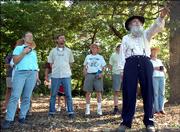 Jean Krows fit right in with the atmosphere as she wore a dress and bonnet reminiscent of the 1850s. She is a Civil War history enthusiast who traveled from Fort Smith, Ark., to see the sesquicentennial celebration.
"Many people say that John Brown - in his zealousness - started the Civil War. It's very important to understand the history of that," she said.
Krows said she also was impressed with the work the trust members had done to restore the battlefield.
About 200 people attended the first evening of the celebration, and it turned into a tribute to the abolitionist who led the forces there 150 years earlier.
Before Arnold Schofield, a retired park ranger, portrayed Brown in "John Brown's Letter to His Wife," those in attendance sang the "John Brown Song" to the tune of "Battle Hymn of the Republic."
Events will continue this morning and throughout the day at the battle site and in Baldwin.
Schedule of Events
Today
Unless noted, all events are at the battlefield, three miles east of Baldwin and south of U.S. Highway 56
7:30 a.m. - Breakfast on the Prairie, $12 at the gate, $5 for kids 12 and under
8:30 a.m. - Invocation by Rev. Adair, portrayed by Ron Rushley 9 a.m. - Portrayal of August Bondi by Bill Worley and an appearance by John Brown
10 a.m. - Music by Blue & Gray Brigade and battlefield tours
10 a.m. - Talks by Brown and Bondi descendants, at Rice Auditorium, Baker University
1:30 p.m. - Narrated motor coach tour of John Brown's Trail, includes tour of Pottawatomie massacre site in Osawatomie; $10, limited to 50 people
2 p.m. - Diane Eickhoff: The Claria Nichols Story, Express Yourself, 713 High, Baldwin
Copyright 2018 The Lawrence Journal-World. All rights reserved. This material may not be published, broadcast, rewritten or redistributed. We strive to uphold our values for every story published.