Arnold Schofield has been getting inside John Brown's mind for 26 years.
That's how long he has been studying the fiery agitator who, 150 years ago today, led a small band of abolitionists in battle against a pro-slavery group in the Battle of Black Jack east of Baldwin.
"He was either a saint or a sinner, depending on which side you were on," Schofield said.
Schofield, a retired ranger with the National Park Service, will transform himself into Brown tonight during the opening of a two-day commemoration of the battle at the Black Jack site. He will portray Brown in a performance called "John Brown's Letter to His Wife" that begins at 7:30 p.m.
"I think he was a zealot," Schofield said of Brown. "He believed in dying for what he believed in."
The commemoration events begin at 5:30 p.m., with performances of Civil War era music and tours of the battlefield. A campfire supper of buffalo stew, cornbread and berry cobbler will be served at 6 p.m. for those who have tickets. Some $20 advance tickets still were available Thursday at Mid America Bank in Baldwin. Tickets at the time of the event will be $25.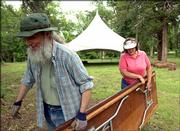 More activities will take place Saturday, including a narrated motor coach tour of John Brown's trail with a visit to the Pottawatomie Massacre site near Lane and Brown's home in Osawatomie. The 50 tickets available for the tour have been sold, said Kerry Altenbernd, a member of the Black Jack Trust, which owns the battlefield and is organizing the events.
Trust members and other volunteers worked this week on last-minute preparations for the onslaught of visitors at the battlefield. Altenbernd said he isn't sure how many people will attend the commemoration, which has some ticketed events.
"Ticket sales have been OK, but I've had a lot of people tell me they were going to wait until the last minute to buy tickets," Altenbernd said. "We're getting lots of e-mails. One person from Minnesota e-mailed me for directions, so the word is getting out beyond Kansas."
In addition to recognizing the anniversary of what many believe was the first armed clash that led to the Civil War, the trust hopes to demonstrate the potential that the battlefield site holds as a tourist attraction.
Schofield is director of the Mine Creek Battlefield Museum and visitor center at Pleasanton. That Civil War site averages from 1,800 to 2,500 visitors a year, he said.
Copyright 2018 The Lawrence Journal-World. All rights reserved. This material may not be published, broadcast, rewritten or redistributed. We strive to uphold our values for every story published.