Pittsburg — Brett Lisher wasn't asking for a revote after the game.
Many could have argued that the Free State product might have deserved the East's Most Outstanding Player award over quarterback Jeff Smith in the 33rd-annual Shrine Bowl at Carnie Smith Stadium.
Lisher, however, wasn't one of them.
"No, he's good. He throws real well," Lisher said. "He deserved it as much as anybody out here did."
Lisher might have been snubbed, but he sure wasn't cheated in his final competitive football game.
The receiver had a game-high six receptions for 91 yards with a touchdown in the East's 10-9 loss to the West on Saturday night.
The outcome ended the East's winning streak at two games.
"We still made a lot of yards and a lot of plays," East coach Bob Lisher said, "we just didn't make enough."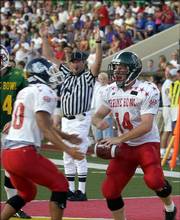 Many of those plays came from Brett, who put up his biggest numbers before the halftime break.
He provided all the offense in the first quarter, catching a crossing pattern and breaking away up the right sideline for a 56-yard gain. The East squad combined for no yards on its other six plays of the period.
He later gave the East its only score of the half. On a third-and-goal from the West four, Smith found Brett Lisher on an out route in the end zone, cutting the West lead to 10-6.
"(Brett) had a pretty good night, I can tell you that," Bob Lisher said, "but Jeff Smith made some big-time plays at quarterback that we needed to make."
Smith completed 10 of 15 passes for 177 yards and a touchdown, but tossed two interceptions and lost a fumble.
He also didn't have a chance to win it at the end. With the East trailing 10-9 with 1:10 remaining, Olathe East's Derek Miller was sent out to attempt a game-winning drive from his own 20.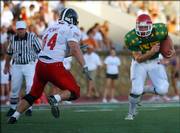 He didn't get very far. The quarterback tossed a pair of completions, but only drove his team seven yards, ending the drive when a fourth-down passing attempt to Greg Lott fell short.
Free State's Nick Ayre caught one first-half pass for 10 yards, while Lawrence High's Scott Penny finished with a sack.
"Our defense played really well," Penny said, "You couldn't have asked for a better game."
Tonganoxie's Kent Fleming also participated in the all-star matchup.
Taylor Jones picked up the West's Most Outstanding Player award, rushing for 31 yards and also catching a touchdown pass.
The game concluded the football careers of both Penny and Lisher. Penny has accepted a track-and-field scholarship at Oregon, while Lisher is headed to Allen County Community College to play baseball.
Still, Brett Lisher wasn't too disappointed in the exhibition loss, especially because it helped raise money for the Shriners' hospitals.
"As long as your out here playing for those kids, that's all that matters," Lisher said. "I had a lot of fun tonight."
Copyright 2018 The Lawrence Journal-World. All rights reserved. This material may not be published, broadcast, rewritten or redistributed. We strive to uphold our values for every story published.