The Douglas County Free Fair is almost here. For many, the fair is about attending the demolition derby, riding carnival rides, looking at exhibits and taking in the food: funnel cakes, cotton candy and snow cones.
But for 411 4-H'ers, it's all that and more. It marks the culmination of a year's worth of work.
Last fall, they enrolled in projects such as arts and crafts, cooking, sheep or horticulture and have been working on them throughout the year. Now, they are putting the finishing touches on those projects, hoping to get a good review and ribbon from the judges.
"The fair gives 4-H'ers the opportunity to show off their hard work and build life skills," said Emily Morehouse, county 4-H youth development agent.
The fair - which runs Saturday through Aug. 6 - is the busiest time of the year for 4-H'ers. Morehouse said about 5,400 projects would be entered this year.
Many 4-H'ers will be there every day, especially those who enter livestock. Not only do they have to show their animals, but they also have to feed, water, bathe and groom them. They also have to clean the stalls.
One such 4-H'er is John Brown, 18, and a member of Palmyra 4-H Club.
Not only will he be entering two sheep, two pigs and a steer, he also plans to enter some canned goods and baked items. John said he would be at the fair every day from about 7 a.m. to 10 p.m.
Audio Slideshow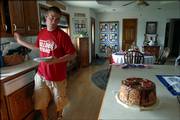 John Brown
Preparing for judges
Although 4-H'ers will be busy during the fair, the weeks leading up to it have proved just as busy.
Last week as temperatures hovered near the century mark, John was carefully watching the weight of his livestock so they didn't lose too many pounds before show time.
"It's been a hot summer," John said. "It's been hard feeding them. I have to try and hit a target weight so they weigh a certain amount at the fair - an ideal weight.
"The hot weather makes it a lot more challenging, especially when you can only work with your animals in the morning or at night when it is cooler."
John also made a homemade chiffon cake and breakfast bread last week; it was a practice round before making them for judges. John said the cake had a good height and texture to it. Then after taking a bite, he seemed pleased with the taste, too.
John said he would like to win a grand champion ribbon in cooking this year at the fair, which will be his last. But it will be tough.
"Cooking is the hardest project to win," he said. "Everybody does it. Not everyone can enter a steer because it can be a huge money investment, and not all families can afford it. Maybe some families do not have room to store a pig. So, the competition (in livestock) is narrowed down.
"But everyone can cook. Everyone has a stove and oven. That's the tough one."
Morehouse, 4-H agent, said she agreed. There will be 984 entries in the food competition this year.
"It's the most popular project," she said. "Arts and crafts is the second most popular with 645 entries."
Ribbons and awards
John's other goals this year are to defend his grand champion title in swine and/or win a grand champion ribbon in steer, which he has never done.
But competition can be fierce in Douglas County, so tough that John didn't want to reveal the flavor of his chiffon cake or what was in the jars that he canned for the fair.
"It's hard to keep coming up with new ideas and twists," John said.
Margaret Kalb, executive secretary of the fair board, said she has known John since he was a baby.
"John is very competitive and a great kid," she said. "The competition does get very serious, but it's not cutthroat. It's more for fun."
John's competitive edge seems to have paid off during his 11 years in 4-H.
He has a box full of ribbons and has won quite a few grand champion ribbons.
He also has earned a few trophies, plaques and a belt buckle. But his most treasured award didn't come from a project, it came from his outstanding work ethic, attitude and sportsmanship during last year's fair. He won the coveted Arden Booth Good Manners Award.
"John is always very willing to help anyone out," Kalb said. "If someone needs help with sheep or cattle or hogs, he is there. You name it and he will be there."
John said he will be a little sad after the fair is over, but mostly proud.
He has saved the money he has earned in 4-H. That money will help pay for expenses at McPherson College, where he will be a freshman football player this fall.
Copyright 2018 The Lawrence Journal-World. All rights reserved. This material may not be published, broadcast, rewritten or redistributed. We strive to uphold our values for every story published.