With her box turtle, Clyde, in hand, Mariah Dickson was back at the 4-H pet show for another year of pet-rearing competition.
"I just decided to be in it again," Dickson said.
Saturday at the Douglas County 4-H Fairgrounds, 4-H members like Dickson brought cats, lizards, birds and other assorted pets to a judged competition. But this year, Dickson was one of a declining number of show participants.
The 4-H pet and dog show Saturday typically draws dozens of local 4-H members who field judges' questions about how they care for their animals, as well as their involvement in 4-H. The show kicks off the Douglas County Fair, which begins at the fairgrounds next weekend.
But since participation in the competition peaked a few years ago, with about 80 young 4-H members bringing everything from house cats to exotic lizards, numbers have steadily declined, said Mary Berg, a 4-H club leader.
"Our numbers are way down," Berg said. "It's disappointing."
Statewide, 4-H enrollment numbers are at their lowest in at least a decade, according to federal data. Enrollment for Kansas stood at 79,434 in 2005, compared to more than 143,000 just two years earlier, the data showed.
Photo Gallery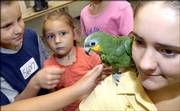 4-H pet and dog show
Several reports, including a comprehensive enrollment study published in 2005 in the Journal of Extension, cited difficulties retaining older youth in the organization, mainly because of displeasure with the club and the time demands of sports and jobs.
Berg said the problem is also one of perception, as the organization tries to shake its rural, farm-based past in favor of attracting urban and suburban kids.
Still, Berg said, the competition from more mandatory activities like sports and jobs lures older members away from the club in large numbers.
"A coach can tell kids they have to show up at practice," Berg said. "We can't do that."
The numbers at the show reflected the change. Only about 25 4-H members entered cats and small pets in the contest. The dog show had even smaller numbers, with only six children entering the obedience and training contest.
Next week, when the Douglas County Fair officially kicks off, Berg said the declining membership would be felt there as well. Although cows and pigs have been consistent in numbers, sheep will be far fewer this year along with several other events and contests, she said.
Emily Morehouse, the County Extension Agent in charge of 4-H Development, agreed that youth sports and other activities were drawing kids away from the club.
To Morehouse, a longtime 4-H member, the declining numbers were disappointing.
"(Young people) may not realize what the benefits of 4-H are," she said.
She said the family-driven organization isn't merely a rural organization for farmers' children, but a club that can teach all children life skills and responsibility.
Since she took over the position last June, Morehouse said she'd been charged with helping the club develop new programs, including partnerships with local schools and the Boys and Girls Club, in hopes of attracting new members.
But Morehouse said her main task - expanding the traditional, rural-based 4-H Club - has been much more difficult.
"I would love to be able to tell you I knew how to do that," she said.
But in spite of declining membership, events like the dog show and next week's fair are still viewed as successes. The children work hard for years to train their dogs, and Saturday's event was a culmination of that work, Morehouse said.
The hard work paid off for 8-year-old Anna Capra, who won Grand Champion for her Gremlins-themed cat, Gizmo.
This was the second year she'd been in the event and her third year in 4-H. And now, with trophy in hand, she said that she'll be back for more.
"I'm going to do it every year," Capra said.
Copyright 2018 The Lawrence Journal-World. All rights reserved. This material may not be published, broadcast, rewritten or redistributed. We strive to uphold our values for every story published.