Police are investigating an injured Kansas Army National Guardsman's reports that he has been the victim of a beating and repeated vandalism involving burned flags in recent days.
The 23-year-old soldier, Marion G. Coleman III, says he awoke Wednesday morning and found someone had "egged" his apartment at Cedarwood Apartments in the 2400 block of Ousdahl Road and had left four burned flags outside.
Three of the flags were small cloth flags on sticks, and the third was a larger flag that had been folded into a triangle, he said.
Coleman said he didn't report the incident to police until Friday because he wanted to check with the military first to see what he should do.
The next incident happened about 2 a.m. Sunday, he said, when he returned from a bar with his fiancee and some friends and found a brick wrapped in a burned flag had been thrown through the screen door of his apartment.
Around 10:15 p.m. Sunday, Coleman said, he went out to move his car in the parking lot of the complex and was jumped and beaten near his car by two men he doesn't know. One of the men was wielding a razor or a dull knife and cut him on the face and arms, he said.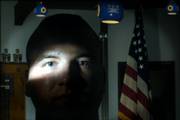 Coleman said one of his tires also had been slashed. He went to Lawrence Memorial Hospital for treatment after police arrived and began collecting evidence.
Coleman said he didn't know anyone with a grudge against him or who might want him injured.
"To my knowledge, I don't think I've angered anyone. I've never had any threats. I've never had any rude gestures at me," he said. "Whatever their objective is, they're trying to break my spirit. They're trying to get me to stop, well, being a soldier, and it's not going to work. They're not going to keep me from being who I am."
LPD spokeswoman Kim Murphree said police have taken some of the burned flags into evidence and are investigating all of the incidents. Coleman said officers also took fingerprints from his car and from a chain link fence he said the men jumped as they ran away.
Photo Gallery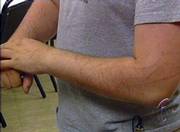 Marion G. Coleman
Coleman suffered a injury to a joint in a training exercise in California last year before his unit, the 2nd Battalion, 137th Infantry, went overseas to Iraq. He said he is on "medical hold" and is working 40 hours per week as an office assistant at Fort Leavenworth, but he declined to talk in detail about the injury or his unit.
A public affairs representative from the Guard said she wasn't aware of the case Monday but would look into it.
Copyright 2018 The Lawrence Journal-World. All rights reserved. This material may not be published, broadcast, rewritten or redistributed. We strive to uphold our values for every story published.