It's been more than two years since Charles Branson, as a candidate for Douglas County district attorney, pledged to create a consumer-protection division to help fight crimes committed against shoppers, customers and clients large and small.
Now he's about to put his vision to work.
By the end of this month, Branson said, a new division will be in place to help consumers fight back against door-to-door scam artists, contractors who don't deliver on services and any number of others who think that ripping someone off is just part of doing business.
"Oftentimes we get reports of scams or schemes that are defrauding members of the public," said Branson, in his first four-year term as the county's top prosecutor. "It's everything from traveling sales scams to computer scams, phone scams - anymore, with the computer age, there is a proliferation of scammers out there. This is one more tool we can use to make sure people are protected."
The division will be similar to one established in Johnson County, he said. Douglas County personnel have made several trips east to see how the division performs, and what it can do to fight on behalf of defrauded consumers.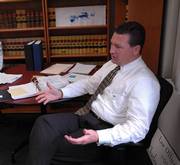 Paul J. Morrison, Johnson County district attorney, said that his division had paid off well, both for consumers and the office itself. Phony charities, pyramid schemes and unscrupulous merchants all have been pursued by the work of his division's two full-time attorneys, three investigators and two paralegals.
They work to get money back for victims, or at least prompt some level of redress for what has been a fast-growing area of crime.
"They're difficult and time-consuming (cases), but they're absolutely the right thing to do," said Morrison, who supports Branson's efforts. "This kind of activity is in every community, and it needs to be addressed."
Branson said he didn't have any specific expectations about caseloads for his new division, only that it will be busy. He's assigning Bob Claus, chief assistant district attorney, as the division's lead attorney, while Phyllis Payne will use her check-investigating experience and expertise as the division's lead investigator.
A Web site will be online by the end of the month, Branson said, along with a dedicated telephone line for people to report problems.
Previously, such cases would be referred to the Kansas Attorney General's Office for review and possible action.
Not anymore.
"It's tough to tell a Douglas County citizen to call somewhere else," Branson said. "I just don't think that's acceptable for Douglas County. We're going to do our work right here."
Where to turn
Charles Branson, Douglas County district attorney, is establishing a Consumer Protection Division that will include a telephone hotline for reporting complaints, plus a Web site that features consumer information and complaint forms. Consumers with complaints also may contact the Kansas Attorney General's Office, at (800) 432-2310. The Johnson County District Attorney's office also has a Consumer Protection Unit. For more information, click on http://courts.jocogov.org/da_adult_cp.htm.
Copyright 2018 The Lawrence Journal-World. All rights reserved. This material may not be published, broadcast, rewritten or redistributed. We strive to uphold our values for every story published.