While sorting through the belongings of her 87-year-old father, Marie McMorris stumbled across an old straw hat.
"Beat Iowa State," it proclaimed across the center, perspiration stains lining the underside.
"He saved it all these years," she said.
McMorris can still see those days in 1965 when she was a college student at Kansas University who decorated the hat for her father. It was a token gift for him for the annual Kappa Alpha Theta Fathers' Weekend.
"I was just very flattered that he had chosen that to save and very touched that that was one of his treasured possessions," McMorris said.
For 125 years, the Kappa Alpha Theta sorority has been a home and haven for KU women, spinning off too many stories to count.
But later this month, the chapter's alumni will tell as many as they can. More than 500 women are coming back to Lawrence for the 125th Kappa Alpha Theta Reunion. The three-day event, set for July 28-30, will include a luncheon and numerous get-togethers at houses and restaurants in Lawrence and Kansas City.
"It's a return to the campus as well as a return to the house," said Debbie Boulware O'Neal, co-chair of the event. "We were one of the first, and we've always taken a lot of pride in being one of the leaders on campus."
Photo Gallery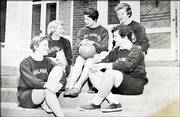 Kappa Alpha Theta
More than 3,000 women have passed through the chapter during their KU years, including former U.S. Sen. Nancy Kassebaum-Baker. Though they may have joined in different eras, they share traditions and songs, secret rituals and a secret initiation ceremony. They don't divulge their rituals.
"Rituals are secret," said Teresa Myers Dillon, who pledged in 1975. "You just keep those secret."
History
The KU chapter started in 1881 with 12 members. In the early days of KU, women were in the minority, and many questioned whether they had a place in higher education.
So banding together was a way of finding strength in numbers and building a support system, said McMorris, who has researched the history of the KU Thetas.
"They needed this social support to get their feet in the door," McMorris said. "Once they got their feet in the door, they proved themselves to be equal to men."
The first chapter house, 1116 Ind., was built in 1912 and later enlarged. The sorority was moved in 1937 to its current house at 1433 Tenn.
"It's a wonderful environment for people who want to live together, study hard, play together and have a rich college life," McMorris said.
Storytelling begins
Joanne Feist, who lived in the house from 1955-58, recalled weekly formal dinners. In those days, KU classes were finished by 5 p.m. and dinner was at 5:30 p.m. prompt.
"It was very formal," Feist said.
There were rules. No short shorts or gum chewing on the first floor. And no hair in rollers on the main floor, either.
In those days, women had curfews, and when the house closed for the night, the women had to take special measures to get things done.
Feist recalled ordering pizza from the old Campus Hideaway pizza parlor. The women would open their second-floor windows and send down the money in their hat boxes, and the delivery man would put the pizza in the hat boxes and send them back up.
"Because we had more rules, we had more fun breaking them," Feist said.
McMorris, a 1967 graduate, recalled an era when the expectations for women were different.
"Girls went to college and they got married," she said, remembering times when it seemed like weddings were constant.
McMorris said she doubts many women ever imagined the careers and accomplishments they'd experience later in their lives.
Dillon recalled the 1970s. The big Theta bash in those days was Theta Buffet, an annual formal around Thanksgiving. In those days, alcohol was allowed in the house. After eating, they moved the tables and danced to live music or DJs.
Dillon also recalled recruitment.
"It was a little bit looser on the rules," she said. "You could signal to the girl that you really wanted her to be a part of the house. You can't do that now."
And women would raise red cards or green cards to vote on whether or not a recruit was approved.
"If somebody had something negative to say, they'd just go ahead and say it," Dillon said. "I think it's so much better now."
As the women prepare for the event, the storytelling has already begun, said Debbie Vignatelli Konzem, co-chair of the reunion.
"We find ourselves reminiscing and comparing stories of how things were through the years," she said. "It's been wonderful friendships that were forged."
Copyright 2018 The Lawrence Journal-World. All rights reserved. This material may not be published, broadcast, rewritten or redistributed. We strive to uphold our values for every story published.